Rapid Deployment Cameras are a modern solution to video surveillance. We highlight their key features, use cases, and multiple benefits.
If you want to boost the security of your construction job site, parking lot, or community, then rapid deployment surveillance cameras are an ideal solution.
Rapid deployment cameras provide immediate access to 24/7/365 security, help protect against theft, deter criminal activity, and enhance the safety of your workers.
WCCTV, the USA's leading supplier of rapid deployment surveillance cameras, outlines the key benefits, use cases, and key components of these unique security solutions. 
What Are Rapid Deployment Surveillance Cameras?
WCCTV defines Rapid Deployment Surveillance Cameras as:
"An all-in-one security system designed for rapid installation, portability, and visibility at temporary or remote sites."
To expand on this definition, the key characteristics of Rapid Deployment Surveillance Cameras include:
All-in-one unit

Integrated video transmission platform (usually utilizing cellular transmission)

An integrated hard drive for video storage

An infrared PTZ camera

Multiple powering options
The most defining characteristic is that they are quick and easy to install, hence the term 'rapid deployment.' 
Rapid Deployment cameras require no cabling, no invasive installation work, and often don't even need a power source. 
This is why they are preferable to fixed Cameras for temporary surveillance applications.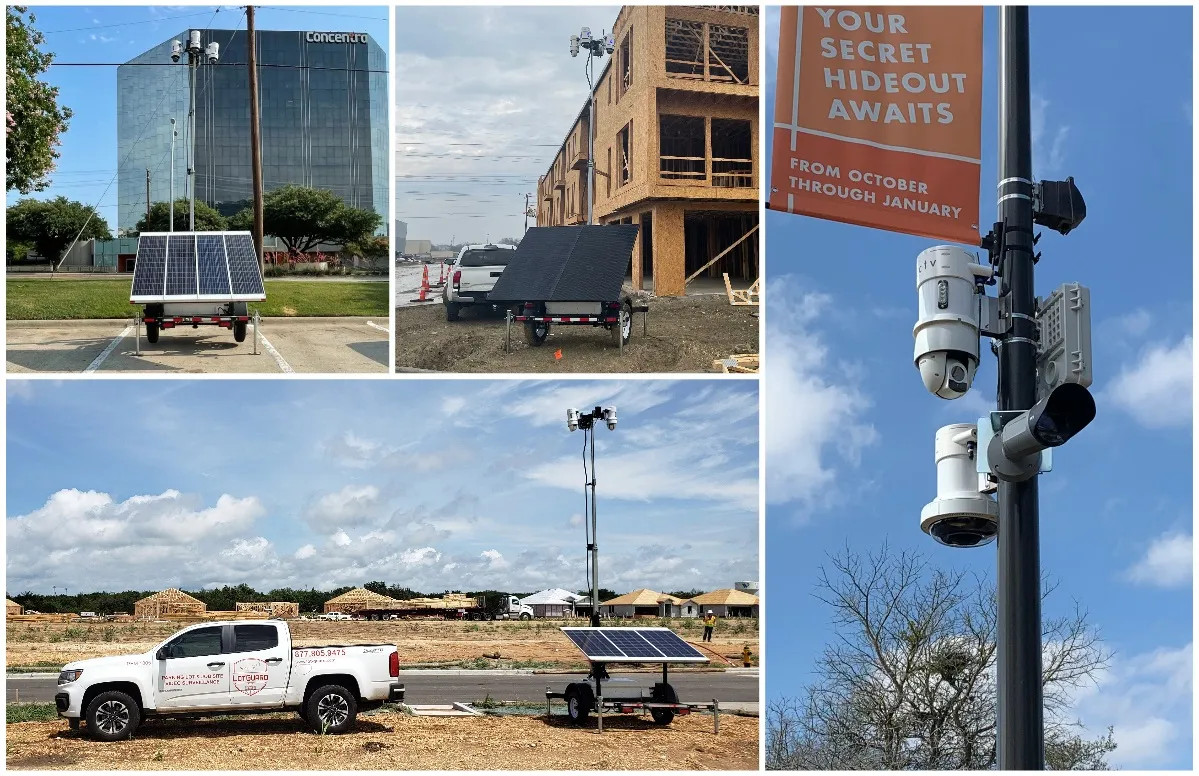 Key Features of Rapid Deployment Cameras
Our recent article Essential Features of Law Enforcement Pole Cameras explores the minimum functionality you should expect to receive from a Rapid Deployment Cameras.
A summary of these features includes:
HD Video: High-definition video recording and transmission ensures you can adequately detect criminal activities and collect video evidence that can help support investigations. All WCCTV cameras are provided with 1080p video quality as a minimum.

Remote Connectivity: You should be able to access your cameras anywhere, anytime. This will ensure ongoing situational awareness and allow you to connect the camera to a remote video monitoring center if needed.

Onboard Recording: A WCCTV rapid deployment camera features a minimum of 4TB of onboard recording capacity, allowing users to review and download video files retrospectively.

Autonomous Power Options: Remote or temporary sites like construction job sites may lack a fixed power supply. This is why most rapid-deployment cameras have autonomous solar power options.

Motion Detection: WCCTV's Rapid Deployment cameras contain built-in edge video analytics which intelligently detect a range of actions and can trigger an automatic alert if a predefined activity (intrusion, loitering, etc.) is detected

Remote Diagnostics: WCCTV's cameras feature built-in Heartbeat diagnostics software that remotely detects any fault with the cameras as soon as they occur. We can pair this with the WCCTV Smart Switch, which allows the unit to be remotely power-cycled, correcting up to 95% of errors. 

Accessories: WCCTV's camera units feature three additional output channels allowing for the addition of LPR cameras, voice address systems, sirens, blue light alarms, and more. These enable us to build a customized bespoke surveillance system to fit users' requirements. 
Use Cases for Rapid Deployment Cameras
WCCTV has supplied rapid deployment cameras since 2001 and has led the market in terms of technology advancements, the number of units deployed, customer support services, and the development of products that meet the exact requirements of several key sectors. 
In our experience, the following applications are the most appropriate for rapid deployment cameras:
Construction Job Site Security
Rapid Deployment Cameras are ideal for construction job site security as they need little or no supporting infrastructure and can be installed in minutes, providing immediate protection. 
Installing a fixed security camera network at a temporary worksite is cost-prohibitive, takes considerable time to install, and doesn't provide the flexibility required to respond to constantly changing environments and new surveillance requirements. 
Due to their portability, we can move rapid deployment cameras around a job site as it develops, helping site managers respond to new surveillance requirements.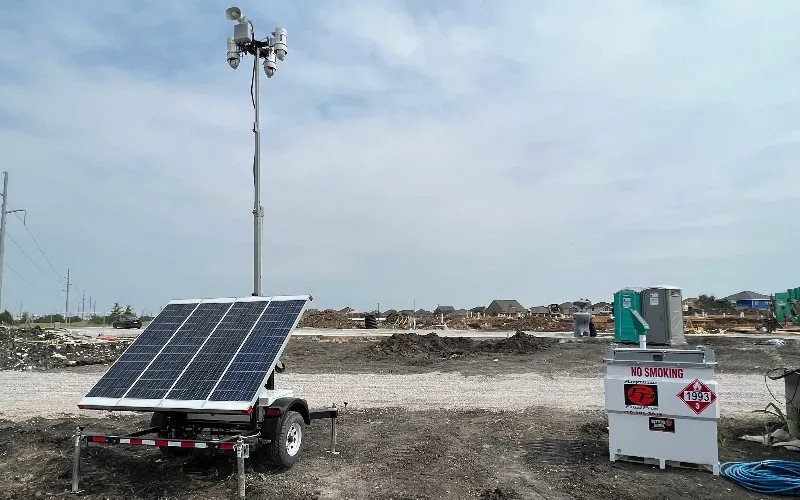 Parking Lot Security
Parking areas pose multiple safety and security threats, with criminals looking to prey on your customers, staff, and vehicles. 
Mobile surveillance units provide an obvious deterrent to opportunist thieves, can operate regardless of power or internet availability, and can be fitted with multiple accessories such as LPR cameras and live audio challenge functionality.
Our LotGuard security units protect more than just parking lots, though.
Whether you need to secure a property, distribution center, self-storage facility, auction property, warehouse, healthcare facility, or even a college campus - LotGuard is always awake and always on guard.
To learn more about our LotGuard solution parking lot security, click here.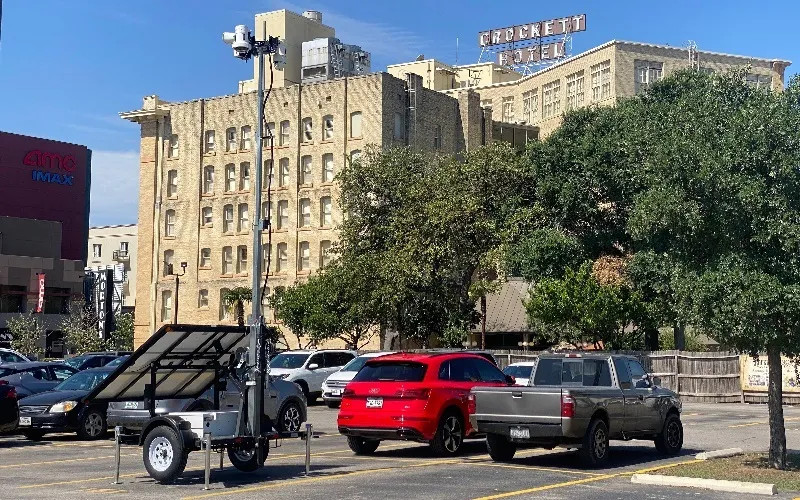 Law Enforcement
Rapid deployment surveillance cameras act as an effective force multiplier. 
Their portability allows police to target crime hotspots and respond dynamically to illegal dumping, gang crime, vehicular crimes, and vandalism.
As the units are fully autonomous, they can provide temporary security at major events, parks, and open spaces.
WCCTV's rapid deployment cameras are available via GSA Advantage for ease of procurement.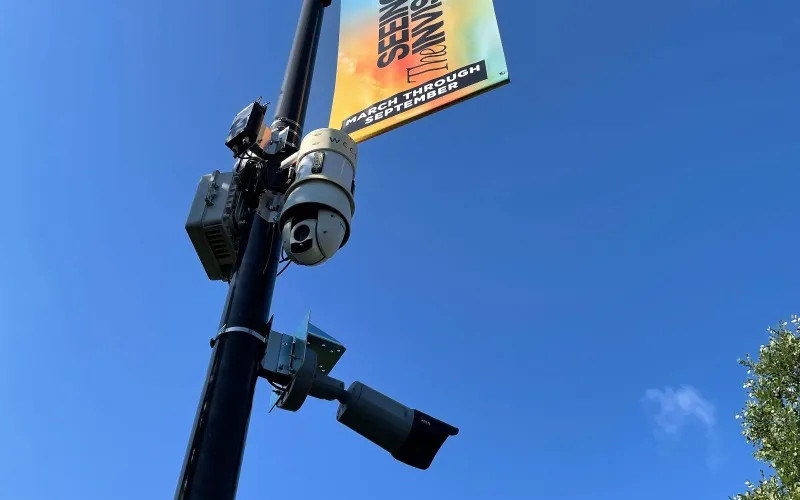 The Benefits of Rapid Deployment Cameras
WCCTV has previously explored the 10 Key Benefits of Mobile Surveillance Cameras. That article examines and analyzes the many benefits of rapid deployment cameras and how they compare to security guards and fixed camera systems.
Below, we summarise some of the key findings:
1. Visual Deterrent 
Overt surveillance cameras have an incredible impact on reducing crime rates. The visual presence of a surveillance camera has been shown to have a psychological effect on positive behavioral changes.
Read more on the Benefits of Overt Surveillance Cameras.
2. Evidence Gathering
If a rapid deployment camera fails to deter a criminal act, it will capture all the evidence to enable a police investigation. The cameras continuously send images to our monitoring partner and record locally 24/7.
The evidence captured by the high-definition cameras can also help you recover any stolen property.
3. Proactive Security 
A WCCTV surveillance camera is more likely to spot an intruder on your construction site than a guard is. This is because they can see in the dark for over 350ft.
Detecting threats to your sites in real-time allows for an immediate crime prevention response, including issuing an audio challenge, activating sirens, and dispatching local law enforcement. 
4. Additional Benefits
Rapid deployment cameras don't just provide security; they can also be utilized to capture incredible time lapse video recordings of your construction projects. Check out some of the benefits of time lapse video here. 
Site Managers can also use the cameras to check on sites to ensure health and safety regulations are being followed and review footage of any accidents or near-misses to learn lessons for the future.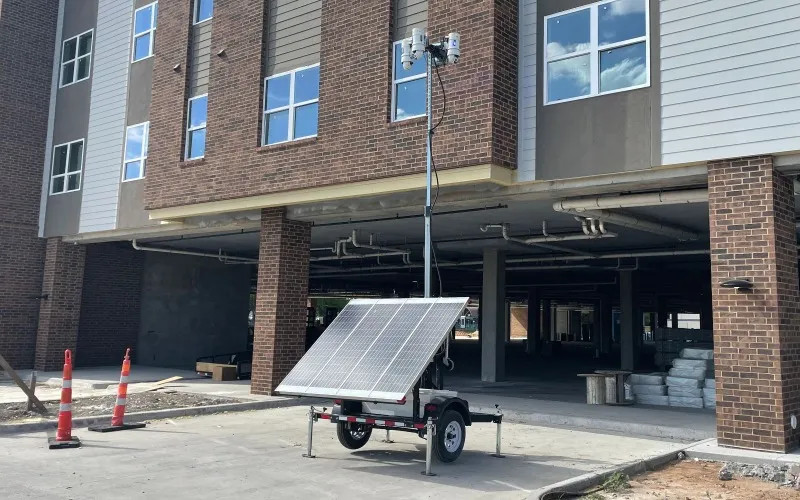 Why Use WCCTV Rapid Deployment Cameras?
WCCTV is the USA's most established supplier of rapid deployment cameras, with more active systems globally than any other supplier. 
Our experience, world-class customer support, and leading-edge surveillance technology make us the ideal partner for anyone looking to install temporary surveillance cameras. 
We manufacture our equipment and do not rehire, resell or rebadge third-party equipment, allowing us to provide direct support and competitive pricing. 
Our service is the most comprehensive available in the marketplace and ensures your sites remain safe. 
Ready to learn more about how WCCTV's rapid deployment cameras can assist with your applications? Contact our team today on 877 805-9475 or email sales@wcctv.com.