Mobile Video Surveillance units, including pole-mounted security cameras, are ideal for Law Enforcement and Police Agencies looking to prevent and investigate crime.
They act as a force multiplier, enhance security and public safety, and provide Law Enforcement organizations with 24/7 eyes on the ground in high-risk areas associated with illegal dumping, vehicle crime, theft, drug dealing, gang culture, and other criminal activities. 
But not all Pole Cameras are designed and created equally, so making the right choice of product and supplier is critical. 
WCCTV, the USA's leading supplier of mobile surveillance systems for Law Enforcement agencies, outlines below the ten essential features buyers should look for when purchasing pole cameras. 
1. Rapid Deployment and Portability
The primary benefit of pole cameras is that they are quicker, cheaper, and easier to install at your target locations. 
A well-designed pole camera should deliver complete plug-and-play capability, allowing users to fix, power, and walk away. 
Pole cameras should also be fully portable so users can quickly redeploy them to new locations should the problems at one site be resolved or if a higher priority surveillance requirement arises in a different area.  
Pole cameras are ideal for targeting crime hotspots, helping Law Enforcement deal with existing and emerging threats dynamically and proactively. Any pole camera that is overly complex to install or move loses this essential benefit.
2. Integrated 4G LTE Transmission
4G LTE transmission is essential for all mobile video surveillance units, not just pole-mounted cameras, as it allows Law Enforcement to access the cameras remotely.
This could be to view live or recorded video, change camera settings or change the field of view of a security camera. Without 4G LTE capability, a user would have to do all this onsite at considerable inconvenience.  
At WCCTV, we manufacture our own 4G LTE modems for the specific application of delivering live and recorded video surveillance images. We integrate these modems into our security products, including our Pole Cameras.
3. Remote Access - Any Time, From Any Device
You should be able to remotely access your Law Enforcement Pole Camera anytime from a range of connected portable devices. 
Utilizing the integrated 4G LTE transmission, Law Enforcement agencies should be able to access a Pole Camera using their authorized laptops, smartphones, or tablets - removing the requirement to be tied to a desk when reviewing videos. 
Having remote access to cameras on demand also allows for dynamic and real-time responses to emerging situations. 
WCCTV provides its mobile viewing software to all clients free of charge and completely unlicensed. This includes smartphone and tablet apps and a range of solutions for laptops and PCs. 
Critically, WCCTV's Pole Cameras can also integrate directly with most industry-standard video management platforms you may already be using. Get in touch with our team of video surveillance experts to learn more about video integration.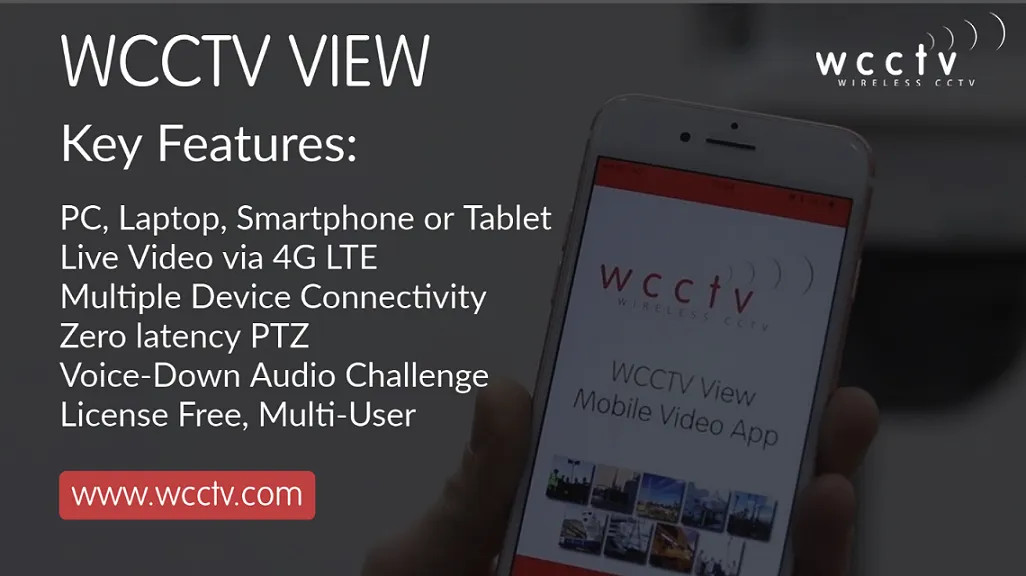 4. Secure Video Transmission
Security of video transmission separates the experts in mobile video surveillance manufacturing from the pretenders.
When selecting the best pole camera for law enforcement applications, you must check what security features come as standard. This will help you ensure no unauthorized users can access your video feeds.
You should expect basic security features, including password protection on the cameras, password protection on the viewing software, and any Wi-Fi networks the devices use.
More advanced features to look for include utilizing virtual private networks (VPNs), which ensure your 4G LTE streams are not publicly viewable.
It's critical that only those users who can authenticate their credentials can gain access to your camera network.
If your current pole camera systems don't have these features as standard, talk to WCCTV today. We have over 20 years of experience delivering video securely and efficiently via 4G LTE.
We are here to help Law Enforcement agencies across the US make the right choices regarding mobile video surveillance. 
5. Local Recording Capability
Your pole-mounted security camera must provide more than just a live video stream; it should also feature local recording capability.
Accessing recorded footage allows law enforcement personnel greater opportunities for investigation, case building, and intelligence gathering - it is essential for any surveillance application. 
A high-quality pole camera, such as the WCCTV 4G IR Mini Dome, will contain integrated local recording capability facilitated by a Solid State Hard Drive (SSD) or Hard Disk Drive, depending on your requirements.
Why risk losing the evidence you've worked so hard to gather by deploying a Pole Camera with no local recording capability?
6. Environmentally Tested
Pole Cameras are subjected to a variety of harsh environmental conditions.
With that in mind, they should be enclosed in environmentally tested, sealed, and vandal-resistant housing.
All WCCTV's Pole Cameras are IP65 rated to protect against water and dust ingress, and they are fully encased in a powder-coated solid steel housing that helps protect against vandalism. 
7. Multiple Powering Options
Pole Cameras should be a completely flexible surveillance solution that allows for deployment at any location, but this isn't true for many cameras on the market. That's because they rely solely on mains power - leaving remote sites vulnerable. 
When selecting a pole-mounted security camera, you must consider where you will be deploying the cameras - will there be power available? Will there even be a place to mount the cameras? 
WCCTV has been helping Law Enforcement agencies answer these questions for over 20 years, which is why we have developed a range of solar-powered pole cameras for locations without power. 
We have even developed solutions for places where there is no power and nowhere to mount the camera. This is what true flexibility looks like, don't settle for anything less.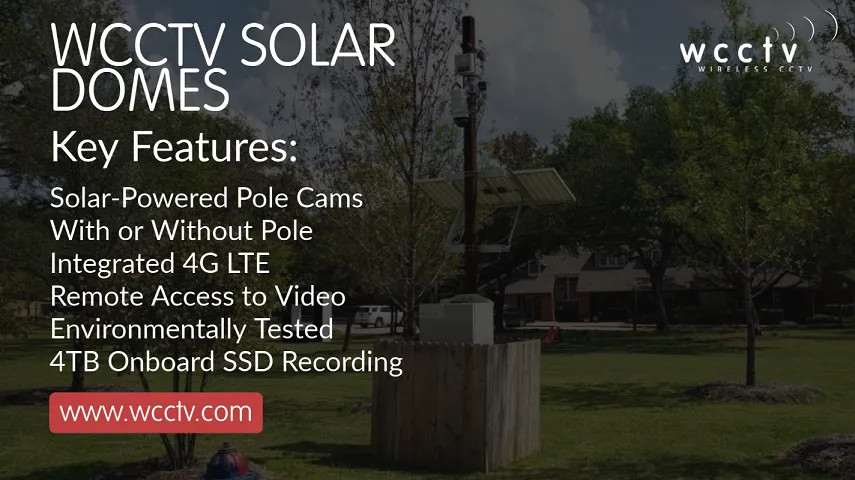 8. Inbuilt Diagnostics and Remote Support
When deploying Pole Cameras for Law Enforcement applications, your primary concern should be catching the bad guys, not worrying about whether your cameras are configured correctly or even working!
That's why it's vital to select a Pole Camera that contains inbuilt self-testing diagnostics, preferably from a company with US-based technical support to assist with your deployments and answer any questions you may have. 
WCCTV's Pole Cameras are all supplied with WCCTV's Heartbeat Diagnostics service, which performs daily checks on the cameras' health and operation.
This is backed by built-in remote power reboot capabilities. It is estimated that up to 90% of these downtime events can be solved with a hard power reboot, as power cycling forces the equipment to reset and restart from a known good state.
Being able to reboot equipment remotely allows the user to reduce the need for expensive and time-consuming site visits significantly.
If WCCTV's automated repairs don't work, our Tech Support team can help with anything else you may need. We provide ongoing support for the camera's lifetime - not until the warranty runs out!
9. Video Analytics
A mobile video surveillance unit is only as valuable as the incidents it captures, and utilizing video analytics will help you find them.
All of WCCTV's Pole Cameras are supplied with inbuilt edge video analytics to help make your surveillance efforts more efficient, reduce the workload on the staff responsible for viewing the cameras, and help you capture the incidents you want an automated and intelligent way.
The old approach to video surveillance systems is having a staff member sit watching a screen waiting for something to happen. This is an incredibly outdated and inefficient way of operating a surveillance program, so video analytics should be on your checklist when choosing your next Pole Camera.
Video analytics can be used for:
Motion detection

Dwell time monitoring 

Traffic violations and congestion monitoring

And more - contact our team of mobile surveillance experts today to get personalized recommendations for your needs!
10. Accessories 
With 20 years of experience supporting Law Enforcement agencies on a range of video surveillance applications, WCCTV has developed its Pole Cameras to be fully customizable to meet your specific needs. 
Every WCCTV Pole Camera features additional input channels to integrate accessories such as secondary cameras, including LPR and thermal imaging cameras. 
(NB - License Plate has been redacted, please get in touch with us for a full demonstration)
Other accessories that can be directly integrated include Audio Voice-Down units to trigger a live or recorded audio warning, helping to deter criminal activity, as well as sirens and banshee alarms. 
As a product manufacturer, WCCTV seeks to partner with Law Enforcement. This helps us continually develop our product and service offering to match your changing requirements.
Click the button below to contact us today, let us know more about your applications, and see if we can help!  
Country of Origin
While not technically a 'feature,' something you must consider regarding your Law Enforcement pole cameras is their country of origin.
Most surveillance cameras manufactured in China have been banned for law enforcement and government applications in the USA. 
WCCTV supplies mobile surveillance cameras to Law Enforcement and Government clients that are fully compliant with this legislation which is why we're an approved GSA contractor!
WCCTV Video Surveillance for Law Enforcement
WCCTV has supplied its award-winning range of mobile video surveillance cameras to Law Enforcement in the USA and around the globe since 2001.
Our 4G LTE-enabled pole cameras and surveillance trailers allow agencies to target crime hotspots - fight back against illegal dumping, gang crime, vehicular crimes, and vandalism and provide public safety at major events and in parks and open spaces.
Our experience, award-winning security cameras, and ongoing US-based technical support make us the ideal partner for your surveillance requirements.
For added convenience, all WCCTV's mobile surveillance solutions are available for procurement via GSA Advantage.

Ready to find out how WCCTV's Mobile Surveillance Cameras can assist with Law Enforcement? Get in touch today at 877 805-9475 or email sales@wcctv.com