Overt surveillance technology provides several benefits such as minimizing expenditure due to vandalism, theft and arson and increased protection for your staff and customers from criminal activity.
As the USA's leading provider of mobile surveillance systems, WCCTV provides both highly visible overt surveillance units and covert units that provide discreet surveillance in response to any crime situation.
Deciding what type of surveillance unit you should deploy will depend entirely on your overall objectives.
Our summary of the different types of units is: covert units will help you catch criminals, overt units will prevent or take away their opportunity to commit a crime. 
Below, we outline some of the critical benefits of overt surveillance cameras, explore some of the deployment scenarios and use cases for these systems, and recommend our top camera picks.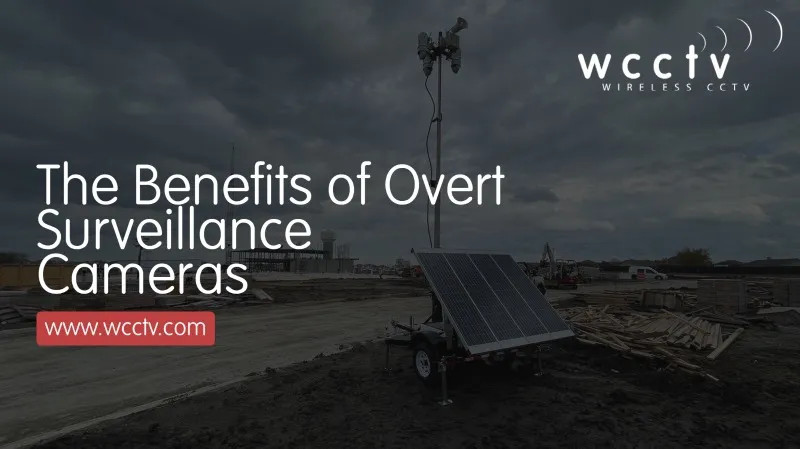 WCCTV provides several highly-overt surveillance units. Our Mobile Solar Trailers stand over 20 feet tall and weigh close to 2,000 lbs when fully laden. 
Our rapid deployment pole camera units are smaller, compact units - but they are very obvious as surveillance units.
We have specifically designed all of these systems to have a clear visual presence as we strongly believe in the effectiveness of overt surveillance.
For an enhanced presence, almost every WCCTV surveillance camera deployment is supported by display signs indicating that recording or monitoring is in progress. 
Behavior Modification
The presence of any form of surveillance is shown to have a transformative and positive impact on individual behavior per numerous psychological studies - source. 
So whether a WCCTV camera is deployed to a parking lot, public event, downtown, in a park, or to secure a commercial property, it will positively impact safety in the area. 
It reduces the chances of criminal damage, graffiti, and vandalism occurring and creates a safer environment where violence and robbery is less likely to occur.
Crime Deterrence 
The main benefit of overt security is deterrence. Put simply, if you want to prevent a crime from happening, use an overt surveillance camera.
Covert units are helpful after an incident has occurred, they gather evidence that can lead to prosecutions, but they won't prevent a crime from happening.
An overt unit will also gather evidential footage, all WCCTV cameras capture high definition footage, but they also allow for proactive crime prevention measures to occur. 
However, WCCTV's overt units also allow for a proactive crime response to occur. Our units are fitted with voice address systems, sirens, and flashing blue lights, all of which can be activated to prevent criminal activity.
WCCTV Overt Surveillance in Action
Rather than just taking our word for the benefits of overt surveillance systems, take a look at the video below that perfectly illustrates how our surveillance units, mitigate, record, and report criminal activity. 
Who Should Use Overt Surveillance Cameras?
WCCTV has been supplying both overt and covert mobile surveillance units to companies worldwide for over 20 years. 
In our experience, the types of organizations that could most benefit from overt surveillance cameras are:
Ready to learn more about how WCCTV Mobile Video Surveillance Cameras can assist with your applications? Contact our team today on 877 805-9475