Demand for mobile video surveillance cameras is growing as technological advancements have made the cameras more effective and affordable when compared with fixed security camera systems.
While a fixed security camera system requires a network of cabling that binds the system to a single location, mobile surveillance systems remain fully portable. Users can rapidly redeploy them to new places to meet changing surveillance requirements. 
WCCTV mobile surveillance cameras offer remote connectivity using cellular networks, making all configuration and monitoring possible from places other than the unit's physical.
They also feature solar powering capability, allowing them to be deployed at practically any location with the ease of plug-and-play.
These features make mobile surveillance systems increasingly preferable to traditional security cameras. Below, we explore the top ten benefits of mobile surveillance units.
What Are Mobile Surveillance Cameras?
As the USA's leading supplier of mobile surveillance for over 20 years, WCCTV has authoritatively defined the key characteristics of a mobile surveillance camera as:
"A cellular surveillance system that incorporates live and recorded video, via an integrated motherboard within one portable housing."
Therefore a mobile surveillance camera can be distinguished by:
Cellular-based video transmission

Remote access to live and recorded video

An integrated hard drive 

Quick and easy installation 

Full portability
It is becoming increasingly common for mobile surveillance units to feature autonomous powering options from solar/renewable sources or eco-friendly fuels such as methanol.
Typical use cases for mobile surveillance cameras include: 
Although these are the current core use cases, the applications for mobile surveillance cameras are almost limitless, with new uses constantly emerging.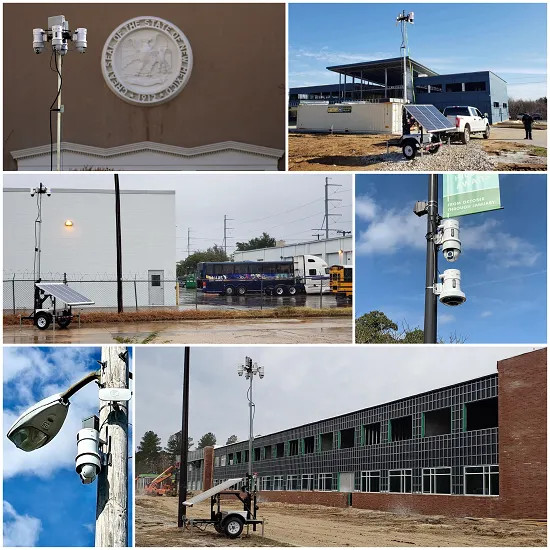 10 Key Benefits of Mobile Surveillance Units
Here are the ten most important benefits offered by mobile surveillance units.
1. Reliability and Performance
Mobile surveillance units are the most reliable form of site security, especially when compared to guards.
A surveillance camera is always present, alert, monitor your site in total darkness, and never misses an incident 24/7/365.
When mounted to a WCCTV Surveillance Trailer, the cameras are 20-25 feet above the ground, and with a complete 360-degree PTZ control, they can cover much more of your site than a guard can.
WCCTV surveillance cameras are of the highest quality, driven by our leading-edge technology platform. Our units have outperformed rival systems in multiple side-by-side trials, which is why time and time again, we are trusted to protect the highest-profile locations and events.
2. Cost Savings
The initial time and cost involved in installing a fixed security camera network mean it is a prohibitive solution for most people.
This is especially true when the security requirement is temporary at a construction job site or a short-term event. 
Mobile surveillance units remove this up-front cost and inconvenience, as they can be installed as ready to protect your site in minutes.
It's as simple as fix, power, and walk away. 
3. Live Video Monitoring
All WCCTV mobile surveillance units can be backed by remote video monitoring services.
The cameras have built-in video analytics, which triggers an alert when motion is detected on your sites. This alert is received by a team of security professionals based out of our ISOC (Interactive Surveillance Operations Centre), who keep watch over all our cameras. 
In seconds, they will verify if there is a threat to your site and initiate an immediate crime prevention response, including law enforcement dispatch. 
4. Full Autonomy
As previously highlighted, it is increasingly common for mobile surveillance units to be provided with autonomous powering.
The units can be powered by solar or methanol fuel cells, allowing them to be deployed in locations without a permanent electricity supply. 
WCCTV mobile surveillance units transmit live and archived video utilizing 4G/5G cellular networks, so they are entirely standalone systems requiring no additional infrastructure to operate. 
5. Rapid Deployment
As highlighted under point 2, fixed security cameras are not just expensive to install; they are also time-consuming. 
A security camera network requires cabling, mounting brackets, tools, and a series of civils work so that the systems can be operational. 
With a mobile surveillance camera, you can be up and running in minutes, getting security when you need it most. 
One person can install a WCCTV surveillance trailer in less than 20 minutes. Skip the wait and hassle of fixed systems and get a convenient solution!
6. Flexibility
The versatility of mobile surveillance cameras makes deployment opportunities and applications virtually limitless. 
Whether you need it in a parking lot, downtown, or an oilfield, the versatility of mobile units makes them an ideal security solution for practically any use case.
7. High-Quality Video Evidence
WCCTV's surveillance and security solution are designed to be proactive; we believe that a passive approach to security only feeds criminality. Unlike most security camera suppliers, we ensure all of our cameras can be backed by video monitoring services.
However, all of our mobile surveillance units feature edge video recording capability so that in the event of an incident, there is always high-quality video evidence for investigative purposes.
8. Deterrence Factor
The presence of an overt surveillance camera can act as a visual deterrent, warning off criminals from targeting your sites.
At 20ft high, WCCTV mobile surveillance trailer is the ultimate visual deterrent and unmistakable surveillance unit that will make any criminal think twice. 
You can enhance this deterrence factor by placing signs around your site alerting criminals that your site not only contains surveillance cameras but that a live security team also monitors them.
9. Customization Options
Every WCCTV surveillance unit can be customized to meet your site's specific needs. This could be customizing the powering options or the camera profile.
Camera customizations we offer include:
License Plate Recognition (LPR) cameras

Infrared cameras

AI video analytics cameras

Thermal cameras

Horn speakers

Sirens

Blue light alarms
10. Future-proofed Tech
Due to recent technological advancements, mobile surveillance cameras have overtaken fixed security cameras in terms of features and functionality and are now the most in-demand form of video surveillance.
These advancements will continue at pace, and WCCTV's units are future-proofed to ensure our clients will benefit from these upgrades, whether in cloud software, IoT surveillance, AI, and 5G transmission, without purchasing new hardware.
See For Yourself
If you are considering investing in mobile surveillance cameras for your parking lots, job sites, or law enforcement department, WCCTV would be happy to demonstrate how it can meet your requirements.
For more information, please fill out a quick contact form or email us at sales@wcctv.com