Client Use Case
Hutchins Police Department's mission is to provide protection of lives and property, preserve public peace, and provide needed community services with the highest level of professionalism and ethical standards.
With a rapidly growing population around the city and rising traffic levels, the Police Department required a mobile surveillance system that would allow them to monitor traffic levels and also protect local businesses and parking lots against theft and criminal damage.
The Solution - WCCTV Pole Cameras
To meet these dual requirements, the Hutchins Police Department invested in WCCTV's Pole Cameras, completely portable mobile video surveillance units. 
As an all-in-one video surveillance solution, WCCTV's Pole Cameras combine HD security cameras, 4TB of onboard recording capacity, and 4G LTE transmission technology into a portable, lightweight unit.
The units are easy to install and maintain and can easily be moved to a new location to target crime hotspots or if surveillance requirements change.
Hutchins PD can remotely receive live video from the desired location at a greatly reduced cost over traditional installations by utilizing existing infrastructure and securing the Pole Cameras to an existing commercial sign.
The Result - Strategic Policing
The WCCTV 4G IR Mini Dome has given Hutchins PD reliable video streaming of key traffic routes, helping the department make strategic decisions regarding traffic build-up and take proactive measures to aid drivers.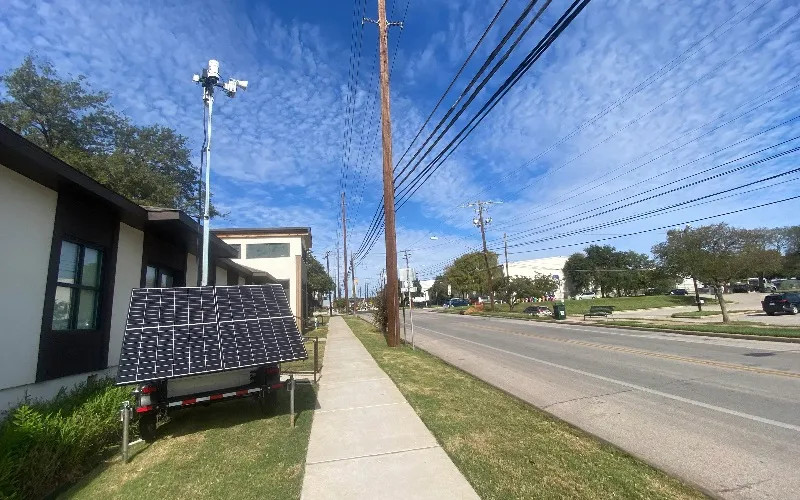 As the units are easy to redeploy to new locations, Hutchins PD can relocate the camera to other areas within the City that experience crime, providing reassurance to residents and businesses alike.
The Quote
"By deploying the WCCTV Mini Dome, we were able to monitor key areas of the City and any incidents which occurred. This led to us being able to manage our Police teams successfully and to make key decisions quickly.
Throughout the process, WCCTV has been excellent in helping us find a solution to really fit our needs. The WCCTV Mini Dome has proven to be an excellent asset in our mission to provide the City with our safety and protection."
Chief of Police - Hutchins Police Department
Related Links
Related news