Fixed security cameras have been typically installed by law enforcement and government departments at areas with high crime rates, or at locations where there may be a threat to public safety.
Such locations include, but are not limited to, downtown areas, business districts, parking lots, shopping malls, schools, and university campuses.
As budgets tighten, investment in these traditional, fixed surveillance cameras is slowing down, as they fail to meet modern crime prevention and investigation demands.
Instead, law enforcement and government organizations are switching to mobile surveillance units as they seek to:
Deter crime at its source

Capture digitally recorded evidence

Secure arrests and warrants
WCCTV is the global leader in mobile surveillance technology, and below our security experts explain how rapid deployment cameras are a practical, cost-effective, and results-driven alternative to fixed surveillance systems.
What Are Mobile Surveillance Cameras?
Mobile surveillance cameras offer unique benefits that allow them to operate alongside or entirely replace a fixed surveillance system.
WCCTV defines mobile surveillance cameras as:
"An all-in-one security system designed for rapid installation, portability, and visibility for temporary surveillance applications."
To learn more about the critical characteristics of a mobile surveillance camera, click the link below.
A cost-effective alternative to fixed security cameras
Most surveillance applications only require cameras for a limited period.
Typically, when a camera is installed, it is unlikely that crime will occur again in that area - especially if you have secured arrests because of your cameras.
This results in a high level of camera redundancy, with crime having moved elsewhere and the camera's purpose now obsolete.
Having incurred a high level of cost and inconvenience to install these cameras, they are now valueless.
A mobile surveillance camera eliminates the high upfront cost of a fixed system while allowing you to move the pole camera as and when your requirements change.
No complex installation or additional infrastructure is required, making a rapid deployment pole camera a much more affordable and targeted surveillance solution.
LPR Capabilities
There are plenty of challenges regarding vehicle crime, including illegal dumping, business crime, parking lot theft, and vehicular crimes.
A temporary pole camera is often needed to reduce these challenges. Their ability to resolve these issues is enhanced when they can be supplied with built-in LPR technology.
Unlike standard surveillance cameras that record a wide field of view or are set to tour predefined zones for activity, LPR cameras are specifically deployed to capture license plate details – resulting in less cost and less hassle than a complex fixed surveillance system.
Click below to learn more.
Once the issues in the target area have been addressed, WCCTV's mobile cameras can be moved to other locations where surveillance is required.
Finally, a WCCTV pole camera doesn't just record incidents; when fitted with a blue light alarm or audio address system, it can proactively catch illegal dumpers in the act and issue an immediate warning - preventing the crime from happening.
The Benefits of Mobile Surveillance Cameras
Some of the benefits associated mobile surveillance units have already been outlined by WCCTV in our appropriately named article The Benefits of Mobile Video Surveillance Cameras.
These benefits include significantly reducing installation costs, ease of installation, quickly deploying surveillance cameras and a more flexible and responsive approach to your crime prevention and investigation efforts.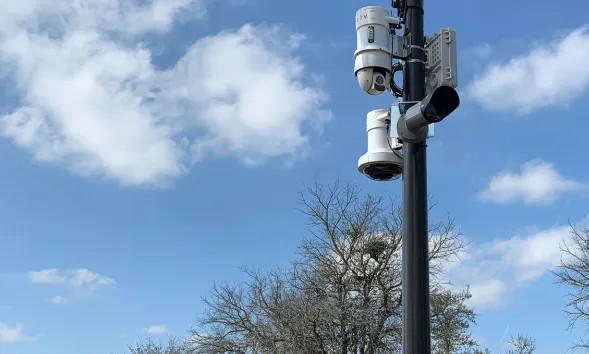 Who Should Use Mobile Video Surveillance Cameras?
WCCTV has been supplying mobile video surveillance cameras around the globe since 2001, and in our experience, the critical applications for these systems include:
Ready to learn more about how WCCTV Mobile Video Surveillance Cameras can assist with your applications? Contact our team today at 877 805-9475