WCCTV's Body Worn Cameras are helping retailers reduce in-store incidents and enhance the physical and mental wellbeing of their public-facing frontline workers.
Our complete range of body worn video solutions have had a proven positive influence in mitigating both verbal and physical assaults on retail workers, whilst simultaneously gathering actionable video evidence of any offences.
The presence of WCCTV's body worn cameras assures staff working in retail environments that their safety is a priority, which in turn improves their confidence in dealing with any situations that occur.  
Benefits of Body Cameras in Retail
Instances of verbal and physical assaults towards retail workers have been on a steady incline, both leading up to and during the pandemic.
Some of the more concerning statistics indicate:

These statistics have far-reaching consequences for the victims and for their employers, with many workers choosing the leave the industry due to stress and anxiety.
Throughout the pandemic and beyond, WCCTV's body cameras have supported staff across the UK's largest supermarket and retail chains, reducing crime, securing prosecutions and improving mental and physical wellbeing. 
WCCTV Body Cameras for Retail 
WCCTV is the UK's market-leading supplier of body cameras for retail applications, both in terms of experience and the quality of products and services we provide.
Our complete range of body worn video solutions includes body cameras, secure Evidence Management Software, multi-unit docking stations, and mounting accessories to suit all wearers.
As the UK's most experienced provider of body cameras for retail, we understand that success depends on much more than camera equipment and software.
That's why we have developed a complete service solution to support your successful deployment of body cameras. our services include:
UK based technical support

Dedicated account management 

Detailed management reports and statistics

Ongoing training: In-person, remote and virtual

Experience service engineers to deliver in-store assistance 
This service backs our impressive product set that offers a range of unique functionality and benefits including:

Forward Facing Screen: The distinctive forward-facing screen on WCCTV's body cameras plays a significant role in deescalating aggressive behaviour. When an individual is aware they are being recorded their behaviour dramatically improves, and WCCTV's body cameras don't just tell individuals they're being recorded, they show them.
Secure Evidence Management: WCCTV's Evidence Management Software adheres to the strictest data security standards to ensure the evidential integrity of all video and audio captured by your officers. The cloud-based EMS allows management teams to view incidents from all of their stores wherever they are.
Ease of Use: We have put user experience at the heart of our body camera's design. The cameras could not be easier to operate, require minimal training, and have a simple one-button record/stop mechanism.
UK Designed, Manufactured and Supported: WCCTV is proud to manufacture all our body worn video equipment and software in the UK. Our dedicated UK-based support team are committed to your success and will assist every step of the way with hands-on training, troubleshooting, reporting and maintenance. 
Live Transmission: WCCTV's body cameras represent the next generation of body worn video technology, with built-in 4G technology allowing for live transmission of footage to improve personal safety.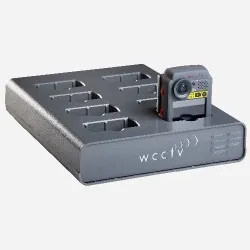 Request a Demo or Trial
You've read what we can do, now it's time to put our body worn video solutions to the test. 
We would be delighted to provide you with a detailed demonstration or free trial to see if WCCTV body cameras work for you.
Contact us today on 0800 470 4630, email sales@wcctv.com or fill in the quick contact form below and we will be in touch.