WCCTV's body worn cameras and evidence management software play a critical role in protecting frontline security officers, improving safety for those on both sides of the camera.
Security staff are the first line of protection for a wide range of industries and are often called upon to deal with the most challenging situations. 
Working in public-facing and high-pressure environments, they are all too often subjected to unacceptable levels of verbal and physical abuse.
Body cameras dramatically enhance the safety of your security teams, helping to capture visual and audio evidence of incidents that occur whilst boosting their confidence in dealing with complex situations. 
Benefits of Body Cameras for Security Staff
The statistics regarding verbal and physical abuse directed towards security staff are startling. A recent study found that:
36% of frontline security staff are physically assaulted on a monthly basis

51% are verbally abused every time they work

57% say that an incident has affected their mental health more than 24 hours after the event

86% of security workers felt that the levels of violence they see and experience had increased in the last five years

The most troubling statistic of all, though, is that 65% of those surveyed felt that physical and verbal abuse was inevitable in their line of work. 
At WCCTV, we don't believe anyone should have to suffer these unacceptable levels of abuse, and our body cameras are proven to have a range of transformative benefits in a security setting. They include:
Reduction in complaints and false allegations

Deescalation of aggressive situations

Video evidence to support prosecutions

Retrospective training and analysis opportunities

Improved confidence in public interactions

Increased transparency in all situations
WCCTV Body Cameras for Security Staff 
WCCTV provides a complete range of body worn video solutions to support frontline security workers. Our systems are suitable for deployments of any scale, and at any number of locations.
WCCTV sells its own UK-manufactured body cameras, supported by Evidence Management Software, multi-unit docking stations, and mounting accessories to attach the cameras to any type of clothing.
The cameras are incredibly easy to use, and capture video evidence at the push of a button. Behind this sits our Evidence Management Software, which makes it easy to store, sort and share the videos your team capture.
Our solutions offer a range of unmatched and unique benefits, including:

Forward Facing Screen: This unmistakable distinctive feature of WCCTV's body cameras has a proven calming effect in high tension situations. It shows an individual that they are being recorded which dramatically improves behaviour and deescalates aggression and conflict. Don't just tell people your recording, show them. 
Evidence Management: WCCTV provides its own Evidence Management Software which allows for the intuitive and easy management of all footage captured by your cameras. This software can be cloud-based or installed on a local network. This flexibility allows us to support the secure management of video files for organisations of any size. 
Ease of Use: WCCT V body cameras could not be easier to use. They capture evidence at the push of a button and require minimal training or expertise to operate. 
UK Designed, Manufactured and Supported: We are proud to design and manufacture every element of our body worn video solution here in the UK. All of our support team are UK based, and we are committed to your ongoing success by providing free of charge training, maintenance and troubleshooting advice.
Live Transmission: WCCTV's body cameras represent the next generation of body worn video technology, with built-in 4G technology allowing for live transmission of footage to improve personal safety.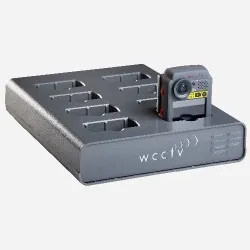 Request a Demo or Trial
You've read what we can do, now it's time to put our body worn video solutions to the test. 
We would be delighted to provide you with a detailed demonstration or free trial to see if WCCTV body cameras work for you.
Contact us today on 0800 470 4630, email sales@wcctv.com or fill in the quick contact form below and we will be in touch.