WCCTV's Body Worn Cameras play a critical role in supporting the Fire and Rescue Service. They help gather crucial evidence in emergencies, mitigate anti-social behaviour, improve safety for the wearer and the public, and assist with training and development.
Fire and Rescue departments across the UK are implementing body worn video solutions to gather accurate, reliable accounts of operations, rescue missions and interactions with the public.
WCCTV's robust and durable body worn cameras are providing these frontline teams with valuable evidence to support fire investigations, as well as aid criminal investigations and prosecutions. 
Benefits of Fire and Rescue Body Cameras
Aside from the operational benefits they offer, body cameras are becoming increasingly vital in the fire service as firefighters are facing an increase in both verbal and physical attacks.
Firefighters are the first on the scene in an emergency, but they have seen a sharp increase in anti-social behaviour directed towards them as they attempt to protect and preserve life. 

Statistics released by the NFCC show that:
930 firefighters were attacked while on duty in 2021

These attacks resulted in 54 injuries

18% of incidents involve missiles and objects being thrown at firefighters

Attacks soar around bonfire night
Because of these shocking statistics, there are widespread calls for Fire and Rescue teams to be fitted with body cameras. WCCTV already sees the considerable benefit its cameras have in reducing these instances. 
However, through our extensive work with many of the UK's fire and rescue services, we also see several other key benefits of our cameras, including:
Evidence gathering to support investigations, particularly in cases of arson

Footage to retrospectively review for training purposes and best practices

Enhanced situational awareness and improved decision making

Improved confidence in dealing with public-facing situations

Reduced levels of anti-social behaviour towards firefighters
WCCTV Body Cameras for Fire and Rescue
WCCTV's robust and flexible range of body worn video systems offer a truly unique range of functionality and features that make them the ideal choice for fire and rescue deployments.
WCCTV's body worn video solutions actively enhance safety for the wearer and the public they serve, allowing firefighters to focus on their life-saving services.
Our complete solutions include market-leading body cameras, multi-unit docking stations, secure Evidence Management Software, ongoing technical support and training.
Our unique benefits include:

Forward Facing Screen: The signature forward-facing screen on WCCTV's body cameras is proven to positively improve the subject's behaviour. When individuals are aware they are on camera, their behaviour improves dramatically, and WCCTV's body cameras don't just tell individuals they're being recorded; they show them.
Secure Evidence Management: WCCTV's Evidence Management Software adheres to the strictest data security standards to ensure the evidential integrity of all video and audio recordings. The intuitive system has been designed to make the process of accessing, storing and sharing vital evidence as straightforward as possible. 
Ease of Use: We have put user experience at the heart of our body camera's design. The cameras could not be easier to operate, with a simple one-button record/stop mechanism that can be activated even if the user is wearing gloves.
UK Designed, Manufactured and Supported: WCCTV proudly designs and manufactures all of its body worn video equipment and software in the UK. Our dedicated UK-based support team are committed to your success and will assist every step of the way with hands-on training, troubleshooting, reporting and maintenance. 
Live Transmission: WCCTV's body cameras represent the next generation of body worn video technology, with built-in 4G technology allowing for live transmission of footage to improve situation awareness and personal safety.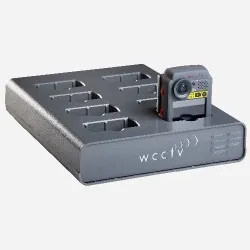 Request a Demo or Trial
You've read what we can do, now it's time to put our body worn video solutions to the test. 
We would be delighted to provide you with a detailed demonstration or free trial to see if WCCTV body cameras work for you.
Contact us today on 0800 470 4630, email sales@wcctv.com or fill in the quick contact form below and we will be in touch.