WCCTV Body Cameras are supporting train operating companies and their customers by enhancing the overall safety experience of rail journeys.
Our body camera solutions are proven to improve interactions between rail staff and the public and have helped to curb instances of verbal or physical violence dramatically. 
Throughout our multiple deployments of body cameras to Network Rail and train operating companies, we have seen a reduction in complaints, false allegations, and most importantly, the improved safety and confidence of customer-facing staff in the rail industry. 
The Benefits of Body Cameras for Rail
Recently published statistics highlight a worrying upward trend in aggression towards rail staff. 
As many as three out of four transport workers have been the victims of verbal abuse in the course of their day-to-day jobs, with 359 workers reporting physical assaults in the last 12 months. 
This level of anti-social behaviour has lasting impacts on rail staff, with many reporting struggles with anxiety due to the abuse they face. This, in turn, creates challenges around staff recruitment and retention within the industry.
It also creates an unpleasant and unsafe environment for the majority of rail users who are not engaged in anti-social behaviour. 

At WCCTV, we believe there is no excuse for violence towards frontline workers providing vital services.
We are proud to supply our body cameras to rail workers for a range of applications, including: 
Mobile Operations Management: Reducing the risk of confrontations and allowing live video to be sent back to ROCs to give an overview of incidents and request advice/ assistance

Station Staff Safety: Providing enhanced safety for those in public-facing roles

Works Delivery: Recording of activities such as track inspections. Recorded footage can be reviewed for lessons learned and to improve safety levels.

Asset Engineers / Buildings Teams: Lone worker protection and relaying back live information/video from operational benefits
Key to the impact of body worn cameras, though, is the transformative effect they have on safety for those on both sides of the camera. Key results our cameras have helped deliver include:
Prevention and de-escalation of threatening and aggressive behaviour towards staff

Improved confidence of workforce in dealing with challenging situations

Capturing video evidence of any incidents to support prosecutions

Reduction in complaints and false allegations 

Allows for video recording in areas not covered by traditional CCTV
WCCTV Body Cameras for Rail
WCCTV provides a complete range of body worn video solutions to support frontline rail staff. Our systems are suitable for deployments of any scale across any number of locations.
Our UK manufactured body cameras are supported by our Evidence Management Software, multi-unit docking stations, and mounting accessories to attach the cameras to any uniform.
The cameras are straightforward to use, capturing high-quality video evidence at the push of a button. Behind this sits our Evidence Management Software, which makes it easy to store, sort and share your files.
Our solutions offer a range of unmatched and unique benefits, including:

Forward Facing Screen: The distinctive forward-facing screen on WCCTV's body cameras has a proven calming influence that can help deescalate tense situations. When individuals are aware they are on camera, their behaviour improves dramatically. WCCTV's body cameras don't just tell individuals they're being recorded; they show them.
Secure Evidence Management: WCCTV's Evidence Management Software can be deployed as a cloud-based solution or installed on your local networks. Whichever way you choose to deploy it, the software provides the high-levels of data security and ease of operation. Our EMS makes the process of accessing, storing and sharing your vital evidence completely straightforward.
Ease of Use: Our body cameras capture evidence at the push of a button. There's no complicated operation, and only the most basic training is required to be fully operational.
UK Designed, Manufactured and Supported: WCCTV proudly designs and manufactures all of its body worn video equipment and software in the UK. Our dedicated UK-based support team are committed to your success and will assist every step of the way with hands-on training, troubleshooting, reporting and maintenance. 
Live Transmission: WCCTV's body cameras represent the next generation of body worn video technology, with built-in 4G technology allowing for live transmission of footage to improve situation awareness and personal safety.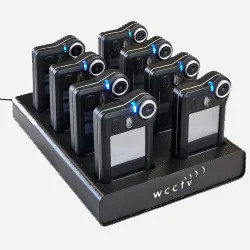 Request a Demo or Trial
You've read what we can do, now it's time to put our body worn video solutions to the test. 
We would be delighted to provide you with a detailed demonstration or free trial to see if WCCTV body cameras work for you.
Contact us today on 0800 470 4630, email sales@wcctv.com or fill in the quick contact form below and we will be in touch.