WCCTV Body Worn Cameras support highway workers by enhancing their safety and capturing high-quality video evidence.
With their unique forward-facing screen, our body cameras are proven to deter the verbal and physical assaults that highway workers frequently encounter.
The footage taken from the cameras can be used to support prosecutions and also to review safe working practices and training purposes.
The Benefits of Body Cameras for Highways Workers
Road workers are subjected to unacceptable abuse ranging from verbal threats to physical attacks and life-threatening vehicle incursions daily.
These incidents have risen sharply, with 330 reported in 2020, almost one a day.
Incidents occur on every type of road, ranging from reports of highway workers being spat at, verbally abused, having objects thrown at them, and being physically attacked by road users.
These direct threats are in addition to the rise in vehicle incursions, where motorist frustrations often lead to drivers deliberately breaching safety zones and putting roadworkers' lives at risk.

WCCTV's body cameras have been deployed for multiple highway applications. In conjunction with other safety measures, they are shown to have a transformative impact on shielding roadworkers from aggression and attacks.
Key benefits of WCCTV's body cameras in a highway setting include:
Deterrence and de-escalation of threatening and aggressive behaviour towards workers

Improved confidence of the workforce in dealing with public interactions

High-quality video evidence of any incidents to support prosecutions

Reduction in complaints and false allegations 

Video recording in areas not covered by traditional CCTV

Footage for retrospective review of safety measures/training purposes
WCCTV Body Cameras for Highways
WCCTV provides a complete range of body worn video solutions to support highway workers. Our systems are suitable for deployments of any scale across any number of remote locations.
Our UK-manufactured body cameras are backed by our Evidence Management Software, multi-unit docking stations for device charging and video upload, and a wide range of mounting accessories to attach the cameras to any uniform.
The cameras are straightforward to use and capture video at the push of a button. Behind this sits our Evidence Management Software, which allows for the straightforward storing, sorting and sharing of all footage caught on camera.
Our solutions offer a range of unmatched and unique benefits, including:

Forward Facing Screen: The unique forward-facing screen on WCCTV's body cameras has a proven calming influence that helps deescalate aggression and violence. When individuals are aware they are on camera, their behaviour improves dramatically. WCCTV's body cameras don't just tell individuals they're being recorded; they show them.
Secure Evidence Management: WCCTV's Evidence Management Software can be deployed as a cloud-based solution or installed on your local networks. Whichever way you deploy it, the software provides high-level data security and ease of operation.
Ease of Use: Our body cameras are activated at the push of a button. There's no complicated operation, and only the most basic training is required to be fully operational.
UK Designed, Manufactured and Supported: WCCTV proudly designs and manufactures all of its body worn video equipment and software in the UK. Our dedicated UK-based support team is committed to your success and will assist with hands-on training, troubleshooting, reporting and maintenance. 
Live Transmission: WCCTV's body cameras represent the next generation of body worn video technology, with built-in 4G technology allowing for live transmission of footage to improve situation awareness and personal safety.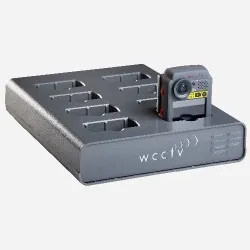 Request a Demo or Trial
You've read what we can do, now it's time to put our body worn video solutions to the test. 
We would be delighted to provide you with a detailed demonstration or free trial to see if WCCTV body cameras work for you.
Contact us today on 0800 470 4630, email sales@wcctv.com or fill in the quick contact form below and we will be in touch.