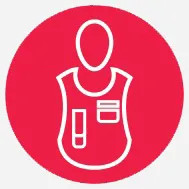 Complete Body Worn Camera Solutions
WCCTV provides a full range of Body Cameras and supporting systems that provide total convenience.
As a complete solution provider, we focus on much more than cameras. Our services include Evidence Management Software, multi-unit docking stations and accessories - all backed by WCCTV's dedicated support team who are committed to your success.
All of our hardware and software is fully designed and manufactured in the UK, and is specifically engineered to meet and exceed the BSI's BS8593: Code of Practice for the Effective Deployment of Body Worn Video (BWV).
Our range of solutions includes:
WCCTV's Body Worn Video Camera solutions are fully scalable, making them suitable for the largest complex deployments down to single-use cameras for individual personal safety.