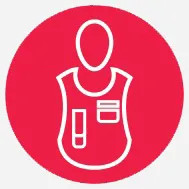 WCCTV: A Complete Solution for Body Worn Video
WCCTV provides a complete solution for body worn video applications, including award-winning body cameras, digital evidence management software and supporting accessories.
We manufacture and support all of our cameras and software in the UK, allowing us to provide an end-to-end managed service that helps our clients protect their staff and secure vital video evidence.
As the UK's leading expert in video transmission via mobile networks, our body cameras are uniquely able to transmit video in real time utilising 4G/5G technology.