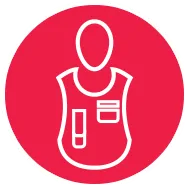 Complete Body Worn Camera and Video Management Solutions
WCCTV provides a complete range of Body Worn Video solutions, including body worn cameras, evidence management software and supporting accessories.
All of WCCTV's solutions are designed to meet and exceed the BSI's BS8593: Code of Practice for the Effective Deployment of Body Worn Video (BWV).
The Company's product range includes:
WCCTV's Body Worn Video solutions are fully scalable, making them suitable for the largest complex Law Enforcement deployments down to single use cameras for individual personal safety.