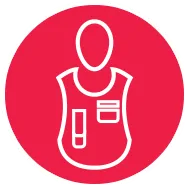 Complete Body Worn Video Management Solutions
WCCTV provides a complete range of Body Worn Video solutions for organisations of all sizes, including body worn cameras, evidence management software (EMS), multi-unit charging cradles and supporting accessories for mounting the cameras.
WCCTV's body worn cameras are designed and manufactured in the United Kingdom. They have been specifically engineered to meet and exceed the BSI's BS8593: Code of Practice for the Effective Deployment of Body Worn Video (BWV).
The Company's product range includes:
WCCTV's Body Worn Video solutions are fully scalable, making them suitable for the largest complex Law Enforcement deployments down to single-use cameras for individual personal safety.