Construction sites face various safety and security challenges, from accidents and injuries to material loss from theft, vandalism, and arson.
As a Construction Project Manager, you've likely considered video surveillance as a means to secure what matters most - your people and your property.
You may, however, not know which system is best for your site or the features to look out for in a surveillance system.
As the USA's leading supplier of mobile video surveillance units to the construction industry, WCCTV is here to help with our tips on what to look for in your next surveillance system.
Why Should You Install or Upgrade Surveillance Cameras?
There are several benefits associated with deploying mobile surveillance units at your construction job site. These include:
No matter what type of project you are working on, whether your site is in a rural or urban location, every construction job site can benefit from utilizing surveillance cameras. 
Learn more about why every construction site should have surveillance cameras by clicking the link below.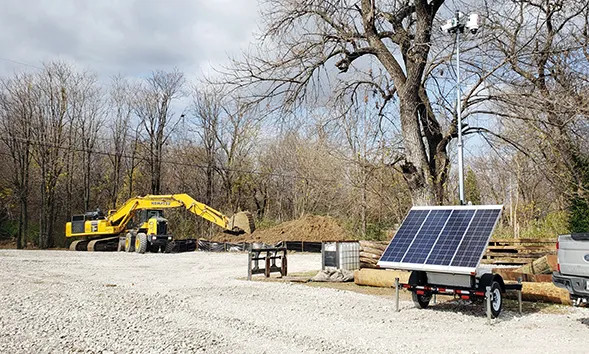 Choosing the Right Surveillance Unit for Your Construction Site
If you have begun your search for mobile surveillance cameras, you will likely have discovered there are several options available. 
Selecting a suitable surveillance unit will depend entirely on the layout of your site, onsite resources (power, internet, mounting poles etc.), and the type of threats you're likely to face. 
Consider your site's size; this will determine how many surveillance cameras you're likely to need to get complete coverage of your site.
You may want to focus your surveillance just around weak spots where potential thieves could gain access or areas where high-value goods are left unsecured, such as lay-down areas.
Finally, if you plan to have the cameras remotely monitored (which we strongly advise), consider what hours of the day you want the cameras to be active to reduce false alarms if your staff are onsite.
All of this may all seem a lot to take in if you're unfamiliar with surveillance systems, so to assist, WCCTV recently published its guide to selecting the suitable surveillance unit for every construction job site. Click the link below to learn more.
What Camera Features Do You Need?
Modern mobile surveillance cameras can be easily customized to create a system that is best suited for your site. Standard feature sets you should look for include:
HD resolution: To ensure adequate detection of criminal activity and to gather evidential footage to use in case of a law enforcement investigation, your chosen surveillance camera should have 1080p resolution as a minimum

PTZ control: Being able to remote move and zoom your cameras aids in the verification of a real-time threat, and secures high-quality evidence

IR: Infrared cameras provide night vision for your surveillance cameras. construction site burglaries typically occur at night, so being able to identify an intrusion in total darkness is essential

Wireless systems: Your site is unlikely to have a fixed internet connection, but wireless connectivity via 4G LTE will provide video transmission and allow connection to the cameras no matter where you are

Mobile app: Modern surveillance cameras should be provided with a mobile app to allow viewing on the go, meaning you're not tied to a desk every time you want to see what's happening at your sites

Solar-powered: Solar powered surveillance cameras allow you to get surveillance at your sites regardless of power availability. They are also environmentally friendly, reducing your companies carbon footprint, an increasingly vital part of business ethics

Portability: The layout of your job sites is likely to change several times throughout the project; the ability to move your cameras around to meet changing surveillance requirements is essential
One of the most popular solutions amongst construction Project Managers is mobile solar surveillance trailers. These systems come with all the equipment you need and the cameras attached so you can install them without modifying your existing structures.
Do I Need Remote Monitoring?
Remote monitoring services are often provided as part of a construction site surveillance package. 
This involves a team of security professionals activity monitoring for alerts from your site, verifying these alerts, and undertaking a remote crime prevention process.
This includes audio alerts, live voice down functionality, and even the dispatching of guards or local law enforcement.
But do you need these services for your site? In many cases, the presence of a surveillance camera is enough of a deterrent to criminals, and they also record high-quality evidence if a crime does occur. 
The value of remote monitoring is primarily crime prevention.
Suppose a criminal is undeterred by a surveillance camera (possibility because they have masked their appearance). In that case, a voice down audio challenge from a remote operator informing them that law enforcement has been despatched will stop them in their tracks.
It prevents your site from harm, damage, and loss, meaning no rising insurance premiums and no distracting aftermath to deal with, which could lead to project delays.
Finally, remote monitoring service means no late-night call outs for you to deal with; you can rest assured in the knowledge that your sites are under watchful eyes 24/7.
WCCTV - Managed Surveillance Cameras for Construction Job Sites
WCCTV are the USA's leading experts in mobile video surveillance for construction site security.
We proudly supply the highest quality surveillance technology backed by a comprehensive service that ensures your sites are constantly protected, with minimal impact on your time.
Our rapid-deployment cameras are utilized for multiple applications, including security, time lapse video capture, and remote project management.
We can customize our solutions to accommodate any site. Our cameras can efficiently function whether you have power or are dependent on solar energy. All of our units contain 4G LTE transmission technology allowing them to operate entirely autonomously.
No matter what site you're on, we have a security solution for you.
Ready to find out how WCCTV's Mobile Surveillance Cameras can assist with site security? Get in touch today at 877 805-9475 or email sales@wcctv.com.