As the price of materials such as lumber, copper and tools rise, construction sites are a constant target for opportunist theft. Learn how a WCCTV system can help protect your sites from burglaries.
The cost of building materials continues to rise, making construction sites a constant target for opportunist thieves. Ensuring your sites have the right security measures in place is more important than ever.   
Construction sites are filled with valuable items, such as tools and heavy machinery, that make theft an ever-present risk.
In fact, equipment theft is so widespread the National Equipment Register (NER) and National Insurance Crime Bureau (NICB) estimate losses to construction companies are between $300m and $1b annually.
These losses are not only expensive in terms of the lost materials and construction equipment, but they are also expensive in the delays they cause, the impact on insurance premiums and the time it takes to replace the stolen items.
The cost of building materials is at an all-time high, so if you don't want your site to become a costly statistic, security should be your highest priority.
WCCTV, the USA's leading provider of managed construction site security cameras, details below how mobile surveillance cameras backed by proactive monitoring services provide complete peace of mind and protect your investment.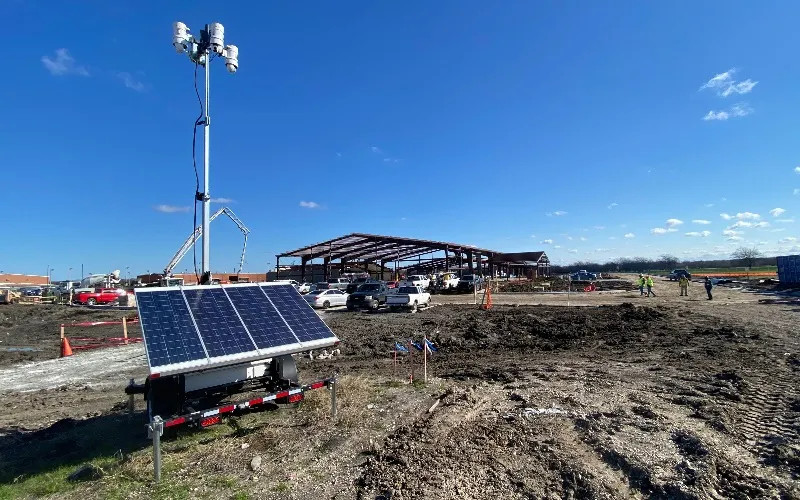 Why Construction Sites are Targeted 
Besides the fact that construction sites contain many high-value materials, criminals have been conditioned to believe that construction sites are easy targets. For the most part, they are.
Most sites are poorly lit, unmanned for several hours of the day, and most only have basic security measures in place, if any at all.
This presents thieves with the ideal opportunity to profit by stealing high-value materials such as lumber, copper, rock, tools and heavy equipment. 
Copper, in particular, is the most targeted and stolen metal in the US, and the vast majority of these thefts are from construction sites.
Lumber is equally profitable for thieves, particularly as this type of material is generally left unsecured in laydown areas overnight. Instances of lumber theft continue to surge as the price of the material continues to soar.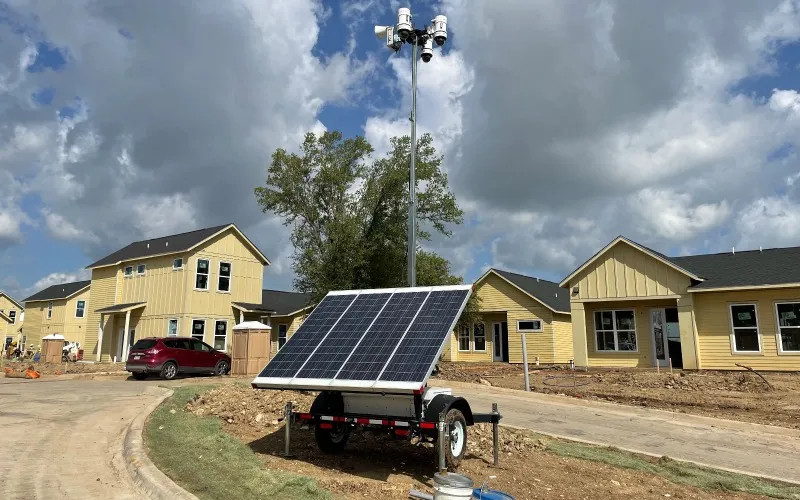 Steps to Protect Your Sites from Theft
WCCTV firmly believes mobile video surveillance cameras are the most effective solution to construction site security. Still, there are many other best practice steps you can take to help prevent theft. 
Utilize fencing: Making it difficult to access your site out of hours will immediately boost security. Adding a fence covering will also make it impossible for opportunist thieves to see what's on your sites, reducing the likelihood of an attempted burglary.

Lock away or hide any valuables: Don't make life easy for criminals. Hiding or locking away valuable materials and tools at the end of each shift is a best practice safety tip that can help save you thousands of dollars. 

Keep your job site well lit: Thieves like to operate under cover of darkness to help them remain inconspicuous. Installing lighting is a relatively cost-effective way of deterring opportunist thieves. 

Track your materials: Ensure you keep a running inventory of all deliveries in and out so you know exactly what equipment and materials are on-site at all times. Ensure there is a paper trail for every item from the point of order through delivery and implementation.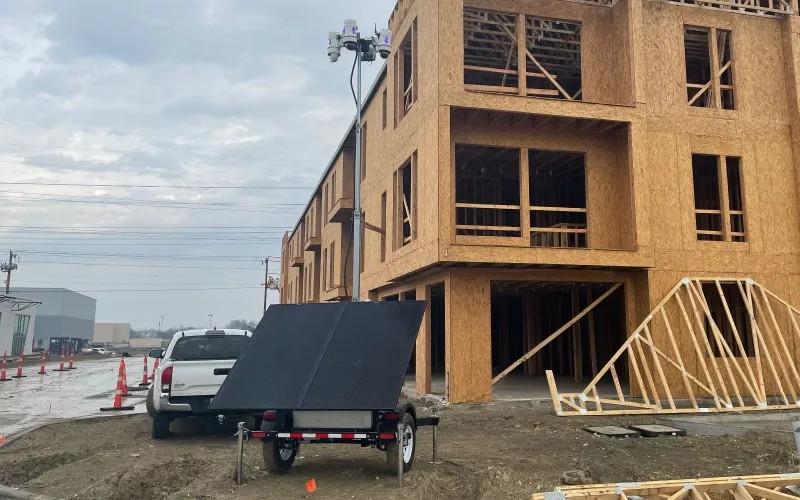 How Mobile Surveillance Cameras Prevent Construction Site Theft
Mobile video surveillance and security cameras provide a visible deterrent to potential thieves. 
When these security cameras are backed by remote video monitoring, they become a virtual security guard - tracking criminals, gathering evidence, and allowing remote deployment of law enforcement or private security to respond as the situations unfold.
WCCTV's security cameras can be deployed to your sites regardless of your current power situation. Our solutions are customizable and can adapt to any situation, whether you have mounting poles with electricity or need a more mobile solar solution. All of our units operate utilizing 4G LTE transmission, making them completely autonomous.
The camera's built-in video analytics capability helps to automatically detect unwanted intruders, which triggers our monitoring partners' customizable escalation process.
This helps to prevent, catch or record criminal activity. See for yourself just how effective our systems are: 
WCCTV - Managed Security Cameras for Construction Job Sites
WCCTV is the USA's leading supplier of mobile surveillance cameras for construction job sites.
We provide market-leading security cameras backed by a fully managed service that includes equipment installation, video monitoring, maintenance, and ongoing technical support.
Our rapid-deployment cameras provide construction sites with multi-application benefits, including security, time lapse video filming, and remote project management.
Our customizable solutions can accommodate any site and easily function whether you have power or are dependent on solar energy. All of our units contain 4G LTE transmission technology – allowing these solutions to operate autonomously.
No matter the site, we have a solution that we can create for you.
Ready to find out how WCCTV's Mobile Surveillance Cameras can assist with construction site security? Get in touch today at 877 805-9475 or email sales@wcctv.com.