Construction Site Security cameras provide benefits beyond just asset protection, they can assist with remote project management and improve worker safety.
Risks can be minimized by following best practice safety standards, including: 
Conducting regular onsite risk assessments

Holding regular safety briefings and meetings

Providing regular safety and skills training

Promoting awareness through effective communication

Utilizing appropriate equipment for all activities 
Security Cameras: A New Approach?
As an additional safety measure, construction companies, and general contractors increasingly utilize onsite surveillance cameras traditionally used for security to protect their workforce remotely. 
When deployed for security, surveillance cameras provide many benefits, such as significant cost savings vs. security guards, their impact as a visual deterrent, and the quality and reliability of HD video systems.
These benefits are amplified when cameras are backed by a remote alarm monitoring service from a professional ISOC who can issue audio voice-down challenges, despatch security patrols or police, and gather critical video evidence to support crime investigations.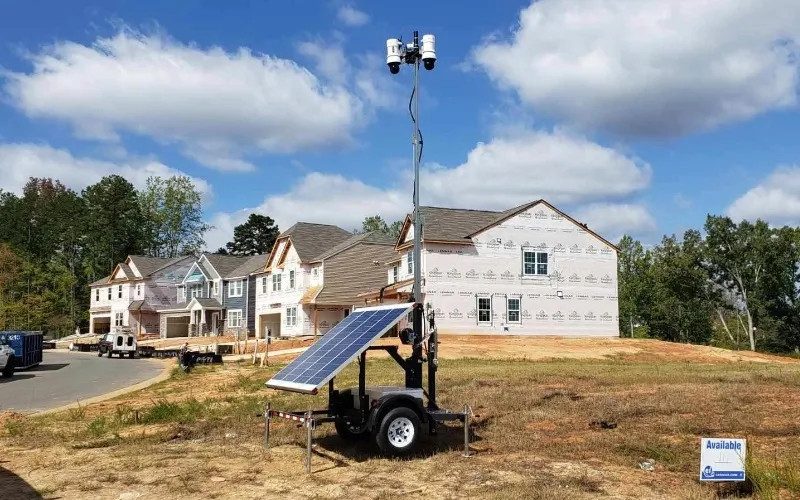 However, accessing live and recorded high-definition footage remotely also provides construction companies with a unique overview of on-site activity, which helps them identify hazards in real-time, review working practices, monitor site access, and ensure all regulations are adhered to. 
Below WCCTV, the USA's leading provider of construction job site security services, outlines the key benefits of using security cameras to improve job site safety for workers.
Remote Identification of Hazards
Remotely monitoring high-definition video allows a foreman or a site safety professional to identify any problems in real-time and take immediate action to reduce the risk of harm.
As they are likely to have responsibility for two or more sites, being able to review working practices and hazards remotely reduces the number of physical site visits needed, saving time and money.  
The below clip taken from a WCCTV Solar Surveillance Trailer, shows the level of detail and field of view that can be achieved using a high-quality video solution. 
Evidence Gathering 
Video cameras can gather valuable evidence that allows construction companies to retrospectively review any accidents or near-misses that occur on-site and discover the root cause.
The footage gathered by a WCCTV security camera can be used as a 'lessons learned' tool for future on-site training and briefing sessions to help minimize any future safety risks.
The impartial video evidence can be used to resolve any litigation or provide evidence of regulation breaches, misconduct, and vulnerabilities.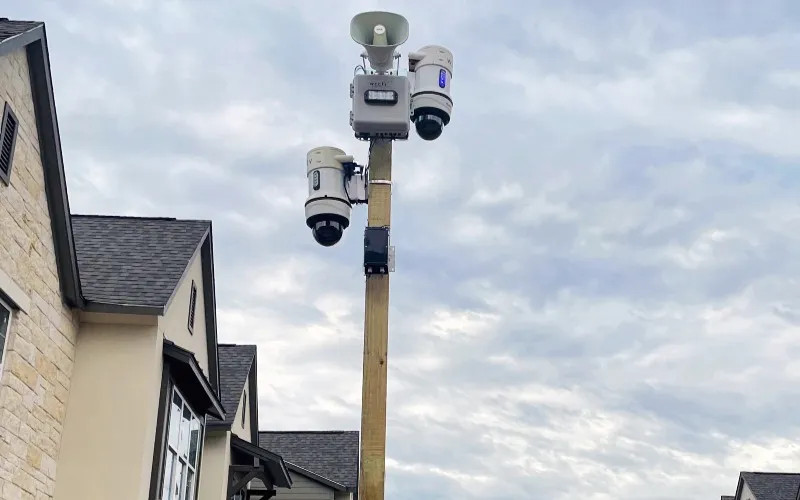 Better Security, Better Safety
The presence of onsite surveillance cameras will help capture or prevent unauthorized access onto your construction sites - which has a beneficial impact on health and safety. 
A WCCTV Solar Surveillance Trailer provides a visual deterrent to would-be trespassers. Should an intrusion occur, our monitoring partners will issue a remote audio challenge. If the audio challenge fails to deter the trespassers, mobile guard patrols or the law enforcement will be dispatched to protect your site.  
Protectively securing your site with surveillance cameras will prevent vandalism, damage to your electronic equipment, and reduce the creation of onsite hazards by malicious intruders. 
WCCTV - Managed Security Cameras for Construction Job Sites
WCCTV is the USA's leading supplier of mobile surveillance cameras for construction sites.
We provide market-leading security cameras backed by a fully managed service that includes equipment installation, video monitoring, maintenance and ongoing technical support.
Our rapid-deployment cameras provide construction sites with multi-application benefits including security, Time Lapse Video filming and remote project management.
We can provide our security cameras whether you have on-site power or not, whether you have mounting poles for the cameras or not and they all contain 4G LTE transmission - so they are completely autonomous solutions.
No matter what kind of site you're on, we've got you.
If you have a construction job site that requires security, remote project management or time lapse video filming and production, WCCTV provide a fully managed service that will help protect your sites and your workers. Contact us on 877 805-9475 or email sales@wcctv.com