WCCTV outlines the role that video surveillance plays in public spaces for preventing crime and why WCCTV is the best choice.
Video surveillance cameras are essential for preventing crime and gathering evidence that can be utilized in courts.
Government agencies and police departments across the United States have deployed WCCTV's video surveillance systems, including our rapid deployment pole cameras or mobile surveillance trailers.
WCCTV's systems are optimized for crime reduction and investigation applications aimed at keeping the public safe.
Below, we outline video surveillance's role in public spaces and why WCCTV is the best choice for your video surveillance requirements.
Public Safety
Installing video surveillance can immediately and measurably enhance public safety. A WCCTV surveillance camera provides 360° coverage of any public space.
Additionally, crimes can be deterred before they even begin – if a suspicious individual or item is spotted in the area, the appropriate authorities can be contacted to intervene before any crime is committed.
Since public safety is virtually guaranteed, people's fear of crime can be reduced.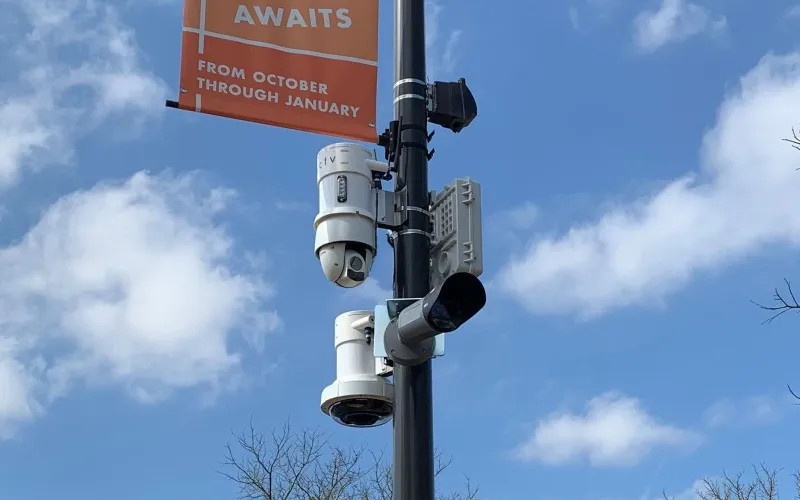 Reduce Crime Rates
Cameras reduce crimes; their visual presence is enough to deter most criminals from engaging in illegal activities. Studies from multiple departments have shown the positive impact of video surveillance on crime rates. 
To aid with crime prevention and investigation, investment in a reliable mobile video surveillance solution to monitor crime hotspots is the perfect solution to reducing crime rates and deterring would-be criminals.
Catching Criminals
If a crime is committed in an area where public surveillance cameras have been installed, the chances of catching the criminal are much higher.
WCCTV's surveillance cameras allow operators to quickly scan, search, review, and share the footage with relevant investigators and authorities.
Surveillance cameras provide the ultimate eye-witness testimony and protect officers against accusations of unlawful actions in the field. Without surveillance cameras in public spaces, it can be extremely difficult to accurately describe the person who committed the crime, even if there were eyewitnesses.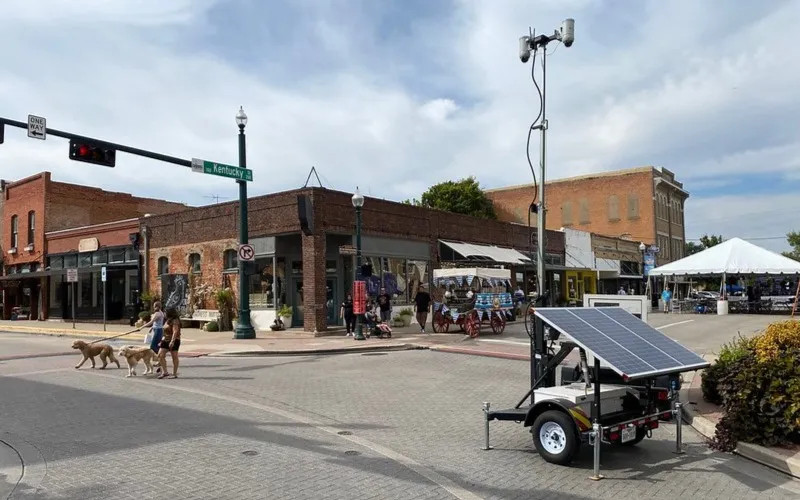 Provide Evidence
Video surveillance footage can increase the likelihood of identifying potential suspects and aid the entire legal process from arrest to conviction.
Footage captured by surveillance cameras can not only be used to identify and locate criminals but video evidence can also be used in court to ensure criminals are prosecuted. 
Use Case for Public Spaces: The City of Jamestown - Parks and Recreation Safety
In common with many cities, the City of Jamestown faces the challenge of criminal damage to public property and spaces. Given the vast areas at risk from this threat, sourcing a suitable deterrent or security camera was not straightforward.
The City of Jamestown required several video surveillance cameras to protect their parks but did not want the expense and inconvenience of hardwiring cable through green spaces.
To meet their requirements, the City of Jamestown deployed WCCTV's Pole Cameras to deliver mobile video surveillance and crime prevention throughout their parks.
"We have been impressed with the quality of products from WCCTV; throughout the process, WCCTV has been superb in helping us find the right solution to suit our requirements. The WCCTV Mini Dome was deployed in several areas of the park, and we were able to monitor and detect vandals.
The Mini Dome has also acted as a deterrent to discourage crime from the park, keeping the parks safe for residents and visitors."
The City of Jamestown - Department of Parks and Recreation.
Why Use WCCTV Rapid Deployment Cameras?
WCCTV is the USA's most established supplier of rapid deployment cameras, with more active systems globally than any other supplier.
Our experience, world-class customer support, and leading-edge surveillance technology make us the ideal partner for anyone looking to install temporary surveillance cameras.
We manufacture our equipment and do not rehire, resell or rebadge third-party equipment, allowing us to provide direct support and competitive pricing.
Our service is the most comprehensive available in the marketplace and ensures your sites remain safe.
Ready to learn more about how WCCTV's rapid deployment cameras can assist with your applications? Contact our team today on 877 805-9475 or email sales@wcctv.com.
Related news