Client Use Case
Fayetteville, AR, hosts an annual Bikes, Blues & BBQ rally, which attracts upwards of 400,000 visitors to the city and is centered near the University of Arkansas campus.
Though the event usually passes without major incidents, UAPD monitors for potential criminal activity at hotspot areas during the event in addition to their day-to-day duties.
UAPD required a mobile video surveillance solution that required little-to-no infrastructure for installation and video transmission to assist with monitoring at these locations.
The Solution - WCCTV Pole Cameras
WCCTV supplied UAPD with a number of its WCCTV 4G IR Mini Dome Pole Camera solutions to meet their requirements. UAPD can deploy these cameras at multiple locations across the site, ensuring a safe and enjoyable event for all.
As an all-in-one video surveillance solution, it combines an infrared PTZ camera, 4TB of onboard recording capacity, and wireless transmission technology into a portable, lightweight unit.
The units are easy to install and maintain and can easily be moved to a new location to target crime hotspots or if surveillance requirements change.
Live and recorded footage can be accessed via 4G LTE and Wi-Fi, allowing remote access to the video from any device at any time.
The Result
UAPD was able to identify suitable locations for multiple WCCTV 4G IR Mini Dome cameras for the event's duration. The cameras can be relocated at short notice to any "hot spot" based on event intelligence.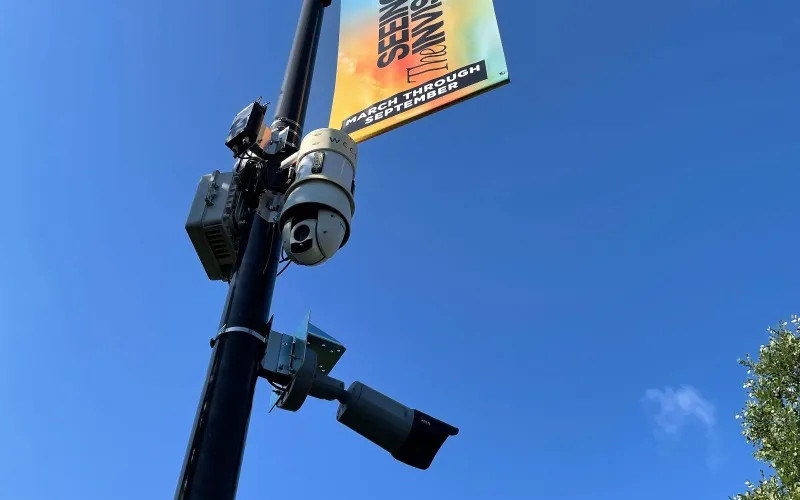 After the event concluded, the cameras were redeployed at Donald W. Reynolds Razorback Stadium, ready for their next home game.
"The footage provided proved to be of an extremely high standard, making it easier to monitor the large crowds who attend the rally. Another huge benefit for us was the ability to allow other agencies to have access to the cameras when required." 
- Captain, University of Arkansas Police Department.
Related Links
WCCTV Pole Cameras for Law Enforcement
Law Enforcement Mobile Video Surveillance
Ready to find out how WCCTV's Mobile Surveillance Cameras can assist with Law Enforcement? Get in touch today at 877 805-9475 or email sales@wcctv.com.
Related news