Rapid deployment video surveillance solutions provide unrivalled security and public protection at major events. Here WCCTV's explore the key benefits and best practices.
Utilizing mobile video surveillance systems at your events provides several security and crowd safety benefits. They can work alone or alongside your security staff to provide extra eyes on the ground. 
In this article, WCCTV, the USA's leading provider of rapid deployment surveillance cameras for major events, explores the key benefits of using security cameras for short-term and/or large-scale events. 
Crime and Theft Prevention
Having a visible security camera presence at your events sends an immediate warning to would-be criminals. 
Busy events, especially ones where alcohol may be involved, can be easy pickings for vehicles and personal property theft. A surveillance solution such as the WCCTV Solar Surveillance Trailer or WCCTV Pole Cameras will send a clear message that someone is keeping watch. 
A surveillance camera presence also reassures your guests that their safety is paramount, boosting the reputation of your event and everyone's enjoyment.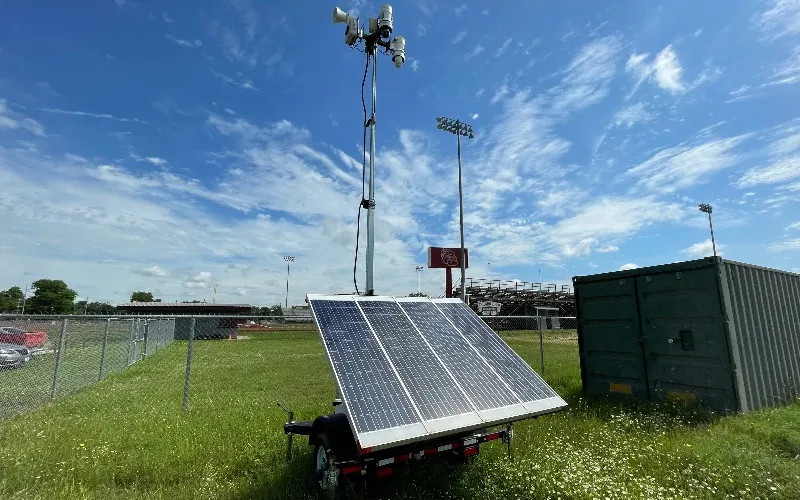 Crowd and Traffic Control
Large-scale events can draw thousands of attendees, making crowd safety and control measures a key priority.
A video surveillance solution can help you manage traffic flow by spotting any build-ups and keeping watch over the busiest areas where people congregate.
Event organizers can take immediate action if any dangerous activities or emergencies are spotted. 
Mobile video surveillance cameras are particularly effective as they provide portability, allowing you to position them at strategic locations or 'hot spots.
Rapid Deployment and Portability
When choosing security cameras for your events, flexibility is everything. Events are temporary occurrences, so a rapid deployment and portable solution allows you to deploy cameras only when and where they are needed most. 
WCCTV provides its rapid deployment surveillance solutions on a rental basis, with a range of managed services, including installation, video monitoring, maintenance, and proactive health checks.  
All of WCCTV's surveillance solutions feature plug-and-play capability, meaning you can have a complete overview of your events in minutes.  
Remote monitoring
All of WCCTV's video surveillance solutions feature 4G LTE cellular connectivity, meaning your teams can access live and recorded video from their security cameras anytime from any device. 
The recorded footage from the systems can also be used for retrospective review and as learning tools for future events. 
Ready to learn more about how WCCTV can protect your events? Call our team today on 877 805-9475 or email sales@wcctv.com
Related news