Client Use Case
The Town of Little Elm, TX, is a distinct and desirable lakeside destination for people to live and play while enjoying a safe, vibrant, and welcoming community. 
The Town hosts its annual Independence Day celebrations, July Jubilee, along Lake Lewisville's shores in Little Elm Park.
To ensure public safety at the family-friendly celebration, the town sought a small footprint and a fully autonomous security camera solution.
The Solution - Mobile Surveillance Trailers
The WCCTV Mini Dome Solar Trailer was identified as an ideal solution, matching all of Little Elm's requirements.
As an autonomously powered rapid deployment video surveillance system, the Mini Dome Solar Trailer can be installed at practically any location and be fully operational in less than 10 minutes to provide temporary security.
The trailer can be fitted with up to 4 WCCTV Pole Cameras that have been specifically designed to deliver live and recorded video securely and efficiently via 4G LTE networks.
Live and recorded footage can be accessed via wireless networks, including 4G LTE and Wi-Fi connectivity, allowing users to remotely view and download the video at any time from any device.
The Result
During the July Jubilee, safety officials could stream live video from the surveillance trailer back to a command center, allowing safety staff to have extra eyes on the ground and a complete situational overview.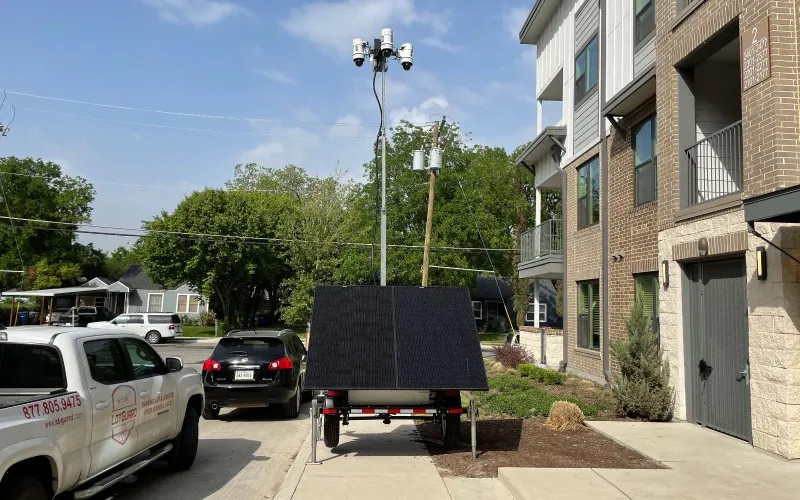 The WCCTV Mini Dome Solar Trailer also provided visual reassurance to festival attendees and acted as an effective deterrent to would-be criminals.
The Quote
"Having WCCTV's Solar Trailer there meant the day's events could be remotely viewed to ensure a safe and enjoyable day. The footage provided proved to be of an extremely high standard, making it easier to monitor the large crowds who attended.

Another bonus was the ability to have more than one user access the cameras when required, and the impact it had on visitors to ensure their safety is not taken for granted."
Related Links
Mobile Video Surveillance for Federal, State, and Local Government
Ready to find out how WCCTV's Mobile Surveillance Cameras can assist with Law Enforcement and city safety? Get in touch today on 877 805-9475 or email sales@wcctv.com
Related news