Client Case Study
Niagara Falls Police Department works in partnership with the community to protect life and property, solve neighborhood problems, and enhance the quality of life in the City of Niagara Falls while protecting the rights of all and applying the highest standards of professionalism, integrity, and accountability.
To aid with crime prevention and investigation, the Niagara Falls Police Department wanted to invest in a reliable mobile video surveillance solution to monitor crime hotspots.
The ideal security camera system would be portable, autonomous, and require little to no maintenance.
The Solution - Mobile Surveillance Trailers
The WCCTV Mini Dome Solar Trailer was recognized as an ideal solution for the Niagara Falls Police Department requirements.
As an autonomously powered rapid deployment video surveillance system, the Mini Dome Solar Trailer can be installed at practically any location and be fully operational in less than 10 minutes to provide temporary security.
The trailer is fitted with up to 4 WCCTV Pole Cameras that have been specifically designed to deliver live and recorded video securely and efficiently via 4G LTE networks.
The WCCTV Pole Cameras are all-in-one mobile surveillance solutions, combining a security camera, local recording capability (up to 4TB), and 4G LTE transmission into a lightweight and portable unit.
The Result - Force Multiplier
The Mini Dome Solar Trailer has acted as an effective force multiplier, acting as a visual deterrent at crime hotspots while providing high-quality evidential footage of any incidents.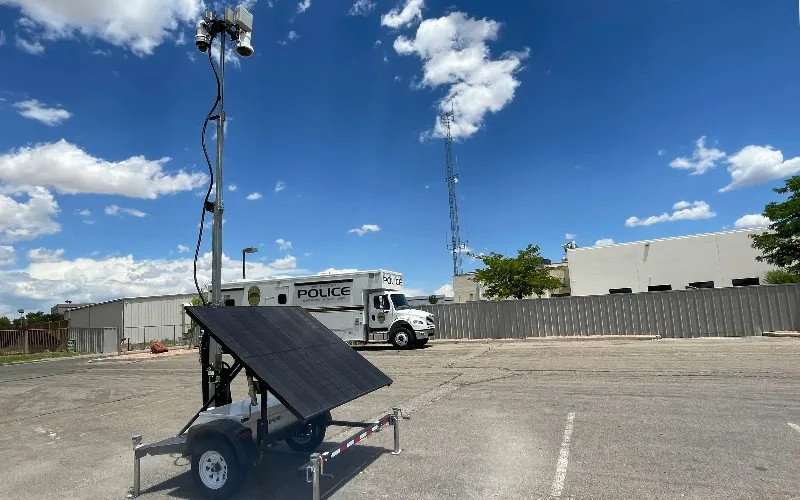 Accessing footage from the Solar trailer via 4G LTE any time from any device has been a huge benefit for the department.
The Quote
"WCCTV delivered an extremely professional and high-quality solution which is an invaluable addition to the Niagara Falls PD; the Solar Trailer is a great deterrent for discouraging crime.
The ability to monitor multiple locations remotely has been a bonus, helping the force manage their teams and make key decisions quickly and efficiently."
Related Links
Related news