Construction site theft remains a persistent threat, with sites lacking in security measures seen as an easy target. WCCTV explores some of the key stats that show how widespread this issue truly is.
Theft, vandalism, and arson remain a persistent challenge for the construction industry, with national statistics revealing the high cost of these crimes. 
Job sites contain valuable materials such as copper, lumber, tools, and machinery. When the crew goes home for the day, these materials are there for the taking, especially if the site has no security measures in place.
With the price of construction materials and tools at an all-time high, thanks to a perfect storm of material shortages and record construction activity levels, job sites are under constant pressure to keep thieves out. 
Theft has a considerable cost impact on companies, and it's more than just the cost of equipment or material that's been stolen. The stolen items need to be replaced, which has a time impact on your project, resulting in lost productivity or delays.
Additionally, having to inform insurance companies can be time-consuming and lead to higher insurance premiums.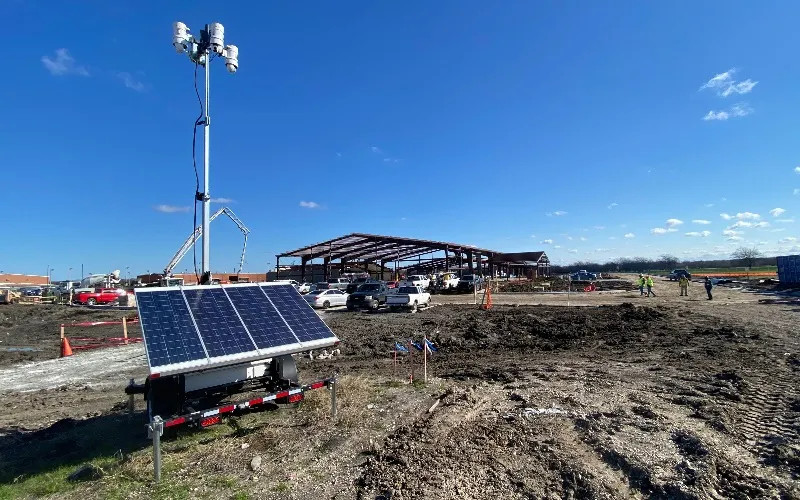 Construction Site Theft Stats
The most recently released statistics from the National Insurance Crime Bureau and the National Equipment Register reveal that construction site crime costs between $300m and $1b annually.
This staggering statistic expanded upon further, with the report also stating:
Less than 25% of stolen construction materials are ever recovered

The states worst affected by site crime are California, Texas, and Florida

The top 10 worst affected states account for over 63% of all theft in the USA

The most commonly stolen items from construction sites are copper (and other metals), lumber, small/hand tools, power tools, and heavy machinery.

The month with the highest construction theft is August – the peak time of year for construction projects.

Most thefts occur in laydown areas or where the equipment spends most of its time. A high volume of theft occurs in areas without security coverage.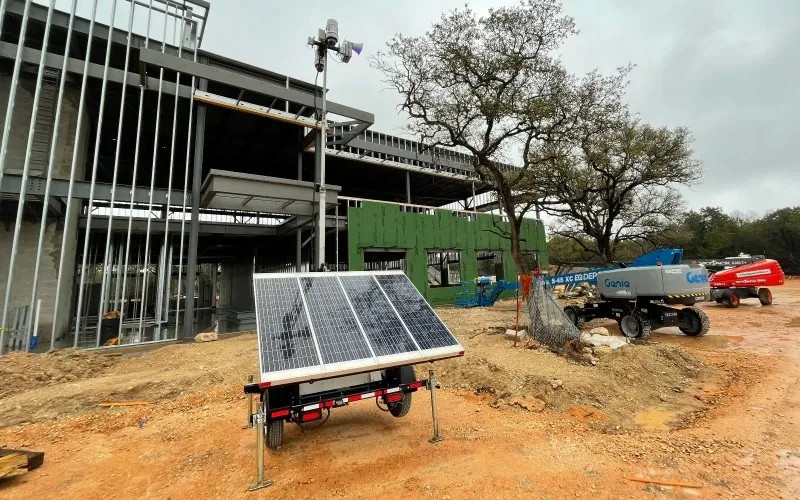 How to Avoid Job Site Theft
At WCCTV, we firmly believe that mobile surveillance cameras are the most effective solution for securing job sites. However, we recognize that while cameras are incredibly effective, there are several basic measures job sites can take to tighten security. 
We recently published our Comprehensive Guide to Construction Site Security, which looks at best practices for securing a job site. Key topics covered include:
Installing fencing: Fences make it difficult for opportunist thieves to access your sites outside of hours. They can be enhanced by utilizing fence coverings that prevent anyone from seeing what's on your site - reducing the likelihood of an opportunist burglary.

Locking away valuable tools or materials: Hiding or locking away valuable materials and tools at the end of each shift prevents thieves from getting an easy ride and could save you thousands of dollars. 

Installing temporary lighting: Installing lighting can help to deter thieves; however, ensure any lights you install are positioned in a way that does not obscure any security cameras you have in place.

Track all materials: Keeping an inventory of all deliveries in and out will help you know exactly what equipment and materials are on-site. Keep a paper trail for every item from the point of order through delivery and implementation.

Installing mobile surveillance cameras: Portable surveillance systems work best for construction sites. They are easily moved, so as the site progresses and the camera position needs to change, they can develop with your site.
To learn more ways to help secure your job sites, download our free eBook, A Comprehensive Guide to Construction Site Security below.
WCCTV - Managed Security Cameras for Construction Job Sites
WCCTV is the USA's leading supplier of mobile surveillance cameras designed to boost security at construction sites.
Our market-leading security cameras are backed by a fully managed service that includes camera installation, remote alarm monitoring services, maintenance, and ongoing technical support.
Construction sites using our cameras gain multi-application benefits, including comprehensive security, time lapse video filming, and remote project management.
We can customize our solutions to accommodate any site, and they efficiently function whether you have power or are dependent on solar energy. Our units contain 4G LTE transmission technology – allowing the cameras to operate autonomously.
We can create a solution for you no matter what kind of site you're on.
Find out how WCCTV's Mobile Surveillance Cameras can assist with construction site security by contacting us at 877 805-9475 or by emailing sales@wcctv.com.
Related news