WCCTV, the USA's leading supplier of mobile video surveillance cameras to law enforcement and government agencies, will host a live webinar on February 15th, 2023.
Mobile surveillance units remove the opportunity for criminal activity by acting as a visual deterrent and gathering high-quality visual evidence. 
They are one of the most important solutions for reducing crime, securing arrests, and improving safety within our communities. 
Our webinar will focus on how mobile surveillance units empower departments by acting as a force multiplier and help to eradicate a range of crimes, including:
illegal dumping

drug and gang activity

vandalism

vehicle theft

traffic violations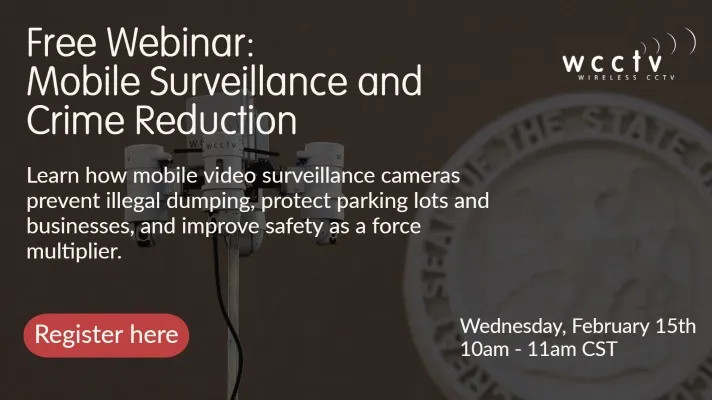 We will also explore some of the more typical use cases for mobile surveillance units and the measurable impact they have on reducing crime, improving safety, and reducing the fear of criminality within our communities. 
Typical use cases we will explore include:
City and downtown surveillance and safety 

Temporary surveillance at large events

Parking lot and business district security 

School and university campus safety

Traffic management and monitoring  
In addition, the webinar will explore grant funding opportunities, give viewers the chance to view live demonstrations of our surveillance equipment, and there will be an open Q and A session if time allows.
The event will start at 10 am Central Time on February 15th, register below now.