Time Lapse Videos help construction companies win news business, celebrate their teams and engage with local communities.
Utilizing Construction Time Lapse Video Cameras delivers a range of benefits that drive results for your company way beyond the end of your projects.
Time Lapse Videos are a unique way of documenting the key milestones of your building and demolition projects, and they bring them to life in short-form video.
A WCCTV time lapse camera will take an image of your job site at regularly scheduled intervals, helping to condense months of work into a breath-taking and fascinating video that will demand attention wherever you share it.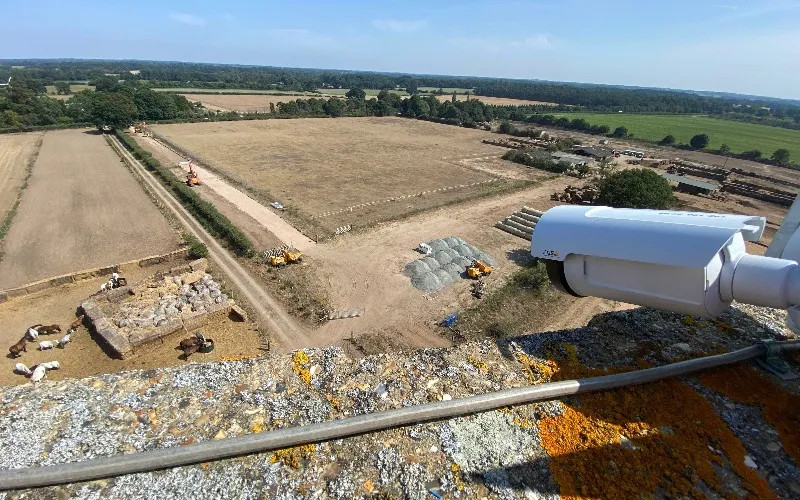 Primarily, time lapse videos will allow everyone involved within the project to celebrate their successes and reflect on a job well done. They create a sense of achievement and involvement within your teams; they show what can be achieved through collaboration, and they preserve your accomplishments for years to come.
Additionally, though, Construction Time Lapse Videos have huge value for your marketing, PR and communication teams. If you want more business, a time lapse video is a cost-effective needle mover.
Below, WCCTV's marketing team explains why every construction job site should have a time lapse video camera.
Time Lapse Video Benefits
Video is arguably the most powerful content for digital marketers. Video can drive engagement across websites and improve SEO performance.
Add them to social media and other online channels, and they will bring potential clients to your website to learn more about your company.
Time Lapse Videos help construction companies in several ways, including:
High PR Value: 
Media outlets love sharable content and visual media to help get eyes on their publications. That's why numerous Time Lapse Videos produced by WCCTV have been featured on local and national news channels and websites.
Help get your company name out there and let potential clients see the quality and efficiency of your work in the most engaging way possible, without breaking the bank on marketing campaigns or advertising. 
Win New Business
Time lapse videos help you win new business. What could be more valuable than that? In fact, 90% of US consumers indicated they had been persuaded to make a purchase based on a video (source).
When potential clients can see your work in action, it's worth more than any client testimonial or case study and better than any sales pitch. Let the world see your teams in action, have your name become synonymous with quality and win more big contracts.
Your Marketing Team's Best Friend
Your marketing team needs videos. They are the most important content in letting a target audience understand exactly what you do and how you do it.
They are also hugely important for SEO. Search engines love video content and will rank a page with videos above a page without one - this will help your marketing team get more traffic to your website, get more leads and drive revenue. 
Community Engagement
Construction projects can often be disruptive to the community around your job sites. There's noise pollution, dust, increased traffic, and potential inconvenience due to travel restrictions. 
But typically, your construction projects will leave behind a positive impact on the community, an improvement to be celebrated. 
Your time lapse video will show how you regenerated an area, built something new or removed something old - and how you did it in an efficient and considerate way. 
Showing transformation during and after your projects will help the communities you're working in feel a part of the project and appreciate the progress you're making.
Internal Engagement
It's not just the surrounding communities that are living through your projects; your teams do too. Presenting regular update videos showing the progress they have made will engender a sense of accomplishment and pride amongst your teams, especially when they're working to tight deadlines.
At the end of the project, everyone can reflect on what they have achieved together, and you can even share the videos with your suppliers, partners and other key stakeholders.
Client Engagement
A time lapse video is there to chart your progress, and nobody is likely to be more interested in how the project is going than your clients. 
Keep them up to date with your progress by sending regular updates or providing them with live access to the cameras so they can see the result of your team's hard work.
WCCTV Construction Time Lapse Cameras
WCCTV has over 15 years of experience working with the construction industry, providing a 3-in-1 video solution for security, remote project management and time Lapse Video.
We will work in partnership with you during your projects to ensure we capture your projects' key milestones and deliver your perfect Time Lapse Video.
We will provide full post-project video editing services, including text overlay, music and removing any periods of inactivity, so you have an incredible highlights package to share across all your digital channels.
You'll also be given access to our time lapse portal so that you can download your own progress videos at the push of a button and even embed the live video onto your website.
For more information on WCCTV's Time Lapse Video cameras, get in touch today on 877-805 9475 or send us an email to sales@wcctv.com
Related news