A time lapse video will visually document your construction projects and bring them to life in a way that catches people's eyes and imagination.
As a leading provider of time lapse video filming and production to the construction industry for over 20 years, WCCTV understands what makes a great time lapse video.
Below, we share some of the most important lessons we have learned and helpful hints and tips.
What Are Construction Time Lapse Videos?
Time lapse videos condense events that occur over months or years into a video that lasts just a few minutes. 
This is achieved by capturing fewer images or 'frames' per second. For example, real-time videos capture between 24 to 30 frames per second.
On the other hand, a time lapse video records much less frequently - as little as one frame per minute or fewer. 
When these captured images are played back at full (or slightly increased) speed, it shows the progress of a construction or demolition project in a fascinating and highly engaging way.
This technique of compressing several years of construction work into a clip of just a few minutes allows businesses to showcase the quality of their work and viewers to get a unique insight into how a construction project comes together. 
Why Should Construction Businesses Install Time Lapse Cameras?
We have previously explored the Benefits of Time Lapse Videos and explored why Every Construction Site Should Install Time Lapse Cameras.
For a comprehensive insight into why they are so popular, please look at either of those articles. We have summarized some of the key findings below:
Promote Your Business: Video marketing is the hottest way to raise your business profile. People watch 100s of minutes of video content online every day. Time lapse videos are a quick and eye-catching way to help you win more business.

Celebrate Your Team: Time lapse videos document the milestones of your builds, allowing you to celebrate the accomplishments of your team at regular intervals and once the project is complete. 

Update Your Investors and Clients: Remotely viewing your time lapse video feed allows investors and clients to check in on your progress without the need for site visits.

Engage Your Community: The impact of construction works on the neighboring community can be severe, with the disruption caused by noise, dust, and increased traffic and footfall. However, a construction project usually leaves a lasting positive value in the community, and through a time lapse video you can demonstrate the transformative effect your work has had, as well as highlight the considerate nature of your work.
How Do You Capture the Perfect Construction Time Lapse Video?
Unlike any other kind of video shoot, with a time lapse video you literally have one chance to get it right - there are no do-overs.
This means planning ahead, and knowing what to do (and what not to do) is incredibly important. 
Below, we highlight the key elements we believe are most important to ensure you capture the perfect time lapse video:
Outline Your Objectives: It's important to determine whether you are capturing a time lapse video that will be used for marketing purposes or for internal review only. This will affect where you place the cameras. For example, if you want to create a stunning marketing video you need to place the cameras at a high vantage point so you capture the best possible view of the whole site.  

Stability:  Ensure your time lapse camera is firmly installed on a secure platform to minimize the effect of high winds and mitigate camera shaking and movements that could spoil your video.

Environment: Your construction time lapse cameras are installed outdoors, so they will be subjected to a range of conditions. Rain, for example, can cause distortion on the lens of the camera. Similarly, construction sites are dusty, dirty environments, and wind can kick dust up onto the camera lens, potentially spoiling your video. We advise you to regularly check the footage and clean your camera lens as soon as you see an issue. You can mitigate the impact of rain by selecting a camera with a rain shield.

Glare: Sun glare can ruin hours' worth of footage so planning and preparation are essential. Consider ahead where the sun is positioned during the day, and be aware that it will move depending on the seasons - meaning your cameras may need to be moved to mitigate this issue. 

Back it Up: Construction projects can run over several months, even years, so making sure you choose a system with adequate video storage capacity, connectivity, and consistent powering is essential. WCCTV's time lapse cameras mitigate against this by having limitless cloud storage, internal recording capacity for periods of connectivity loss, and autonomous powering. 
Must-Have Features of Construction Time Lapse Cameras
While planning and preparation are essential to creating the perfect time lapse video, choosing the right equipment or service provider for the job is equally important. 
Below, we highlight the must-have features you should demand from your equipment provider. 
High Resolution: To capture all the details of your project you want a camera that delivers stunning images in high definition. Look out for a camera with a minimum of 5-10 megapixels, and at least 1080p resolution. At WCCTV, we provide cameras that deliver resolutions up to 4K.

Environmentally Tested: Your construction time lapse camera is likely to be installed outside, so they need to be able to withstand dust and water ingress.

Onboard Storage and Cloud Backup: As mentioned earlier, your time lapse camera will capture a lot of images over a long period of time, so they must feature adequate storage to last the whole project. loud storage will also ensure that your footage isn't lost in the event of any hardware issues.

Continuous Power: Losing even an hour's worth of footage could be the difference between a perfect time lapse video and one that is totally worthless. Mitigating against power outages is vital, which is why WCCTV backs up its time lapse cameras with off-grid solar options. 

Remote Access: Being able to remotely access your cameras deliver multiple benefits. firstly, it confirms they are still online and recording. Secondly, you can check to see if the image has become distorted by sun glare, dust, dirt, or rain. Finally, it allows you and your stakeholders to check in on the progress of the project without visiting the site. WCCTV provides remote access to its time-lapse cameras via our free mobile app and bespoke web portal.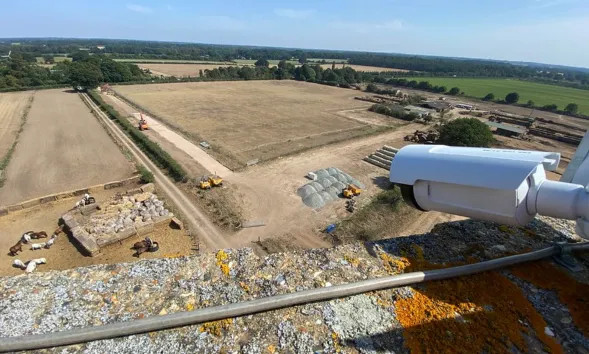 What's the Best Length for a Time Lapse Video?
Experts recommend that a marketing video should last no longer than around 2-3 minutes.
Project Length: The length of the construction project will almost always determine how frequently we capture images. On a two-month project, for example, we might capture an image every 5 minutes, while on a two-year project would be more like every 15 minutes.

Working Hours: We will communicate with the client ahead of time to determine their working hours to check whether we need to record during the evening, weekends and whether there are any periods of significant activity where we may need to increase recording frequency.

Type of Project: One of the things we've learned over the years is you literally have one shot to get this right. If we're recording a demolition time lapse and we miss the building coming down, we can really ask the client to put it back up again for 'take-two'. That's why we try to earn as much about the project as we can, and continually communicate with the customer.
WCCTV Time Lapse Video Services
WCCTV's Time Lapse Video cameras and video editing services are perfect for capturing progress at your construction or demolition job sites.
We take the time to understand your objectives and key milestones to ensure you receive a time lapse video that documents your project perfectly.
If you're unsure of your exact requirements, our team of time lapse video experts will advise you on how to make the most of your video. Our experience comes from working with major construction companies in the USA and around the globe for over two decades.