Electrical substations are part of the USA's critical infrastructure, and they are also a prime target for copper theft. Learn how mobile surveillance cameras boost security measures.
Electrical substations are critical to our society and the lives of all US citizens. But with copper prices continuing to rise, they are increasingly at risk from organized crime. 
Almost every part of our daily life relies on the nationwide electricity generated by power grids. Providing security for these locations, which contain multiple valuable materials and are often spread across remote and complex sites, remains a constant challenge. 
Facing this challenge is so important that the FBI has named copper theft from electrical substations one of the biggest threats to US critical infrastructure. So what can be done to prevent these thefts and protect our critical infrastructure? 
WCCTV, the USA's leading supplier of mobile video surveillance cameras, below details some of the key ways to harden the target, and the vital role surveillance systems play in securing these critical locations.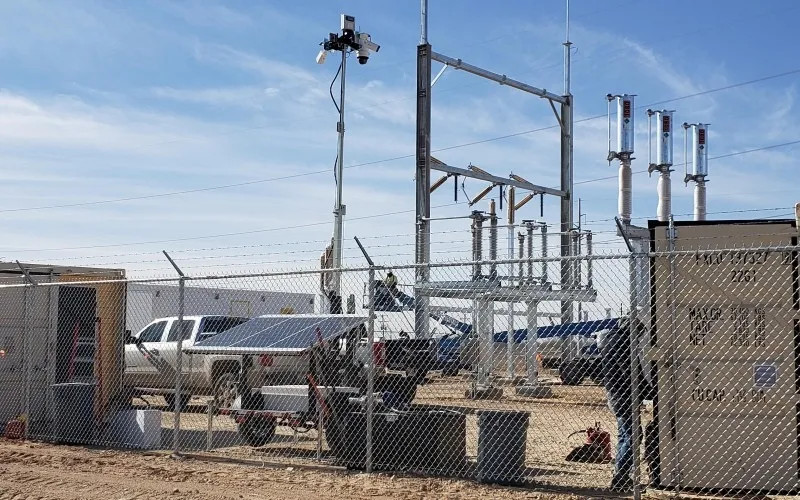 How to Secure Electrical Substations with WCCTV
There are more than 55,000 utility sub-transmission and distribution systems in the U.S. These remote facilities are vulnerable to vandalism, theft, terrorism, or other damage.
The costs associated with these incidents are immeasurable in terms of lost equipment, but also reputation. The long-term impact of leaving thousands of US citizens without power due to poor security preparedness is something your organization must guard against. 
WCCTV's mobile video surveillance units are vital in preventing substation crimes and bringing those responsible to justice. 
Below are some of the key benefits our mobile surveillance trailers and pole cameras deliver:
Audio and Visual Deterrent
WCCTV's mobile surveillance units are supplied with your choice of banshee sirens, flashing blue lights, and/or horn speakers, all of which are proven to help deter unwelcome intruders. 
We have often seen that just the audio or visual warning from one of our cameras is enough to stop a thief in their tracks.
Thermal Imaging
WCCTV's thermal cameras will detect a human presence in both low-light and complex detection areas. However, the cameras work incredibly well in daylight and will still detect intruders regardless of weather conditions. 
Video Analytics
WCCTV can provide all its mobile surveillance units with edge video analytics that helps to detect any intrusions or loitering on or around your sites.
This powerful, automated surveillance technology takes the hard work out of crime detection and helps users quickly and efficiently review incidents.
Our primary goal is to utilize surveillance cameras backed by a range of intelligent technologies to autonomously detect an intrusion at your substation and raise an alert to whoever is monitoring these cameras in real time.
This can then initiate a remote theft prevention process, including controlling the cameras to zoom in, sound alarms, and, if necessary, alerting the authorities or mobile guards.
The key benefit of surveillance cameras is that they never miss, never take a break,  and are always on guard. They cover areas your security patrols can't and detect activity in total darkness for a fraction of the cost. 
Ready to learn more about how WCCTV Mobile Video Surveillance Cameras can assist with your applications? Contact our team today on 877 805-9475
Related news