WCCTV has been at the leading-edge of mobile video surveillance technology for over 20 years, pushing the development of these solutions to new heights.
Our technology has been developed to meet the crime fighting and prevention across a wide range of use cases, helping our clients prevent and record incidents and respond to real-time threats.
Our mission is to supply the highest quality surveillance technology backed by a comprehensive service that takes the stress out of securing your property or community.
But detecting and deterring crime is only one part of what makes our systems so efficient, there are several additional benefits that you should be taking advantage of.
Below, we have summarized our top features.
Live View Your Property
WCCTV's mobile surveillance units operate via the 4G LTE network, allowing you to access your cameras virtually anywhere.
This allows you to self-monitor your property or community whether you are using our managed monitoring services or not.
WCCTV's Mobile App, WCCTV View, provides access to live and recorded images for WCCTV mobile surveillance systems direct to your smartphone or tablet devices.
This gives you the flexibility to monitor site or property conditions at any time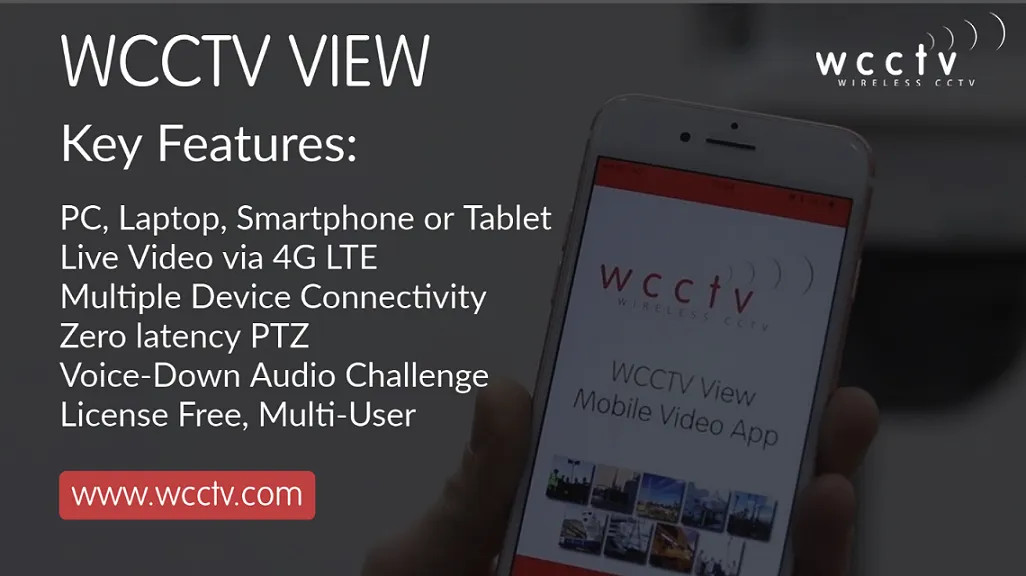 Review Recorded Footage
Deterring crime is our number one priority, but our cameras also store recorded video for retrospective review.
This footage can assist with law enforcement investigations, insurance claims, investigation of accidents and injuries, and enhance understanding of how incidents occur – help reduce risks in the future.
Furthermore, the evidence captured by the high-definition cameras can also help you recover any stolen property.
Remote Monitoring
If you don't have time or manpower to self-monitor your cameras, WCCTV provides professional video monitoring services.
A monitored surveillance camera is essential a virtual security guard keeping watch over your premises 24/7/365 without ever taking a break.
The effectiveness of our proactive monitoring and crime prevention services is perfectly demonstrated by the video below.
Automatic arming schedules protect out of hours
You may not want to utilize our monitoring services during working hours, an the risk of opportunist theft will likely be higher out of hours.
That's totally fine. Just provide us with your working schedule, and we'll take it from there. Our automatic arming schedule means you don't need to set the system every day, it will just kick in once you need it.
Be sure to let us know of any changes to your working schedule though, that will make sure we don't miss anything or provide you with any false alarms.
Remote Health Diagnostics
WCCTV's mobile surveillance units contain built-in remote diagnostic tools as standard. This is known as the WCCTV Heartbeat.
Twice a day, every day, Heartbeat will check:                
Connection Issues: Reports when the connection to the surveillance unit fails or the unit goes offline

Camera Failures: Detects if a camera has developed a fault or is tampered with

Hard Disk Failures: Detects hard disks failures or if it stops recording

Recording Issues: Reports if the system records for less than expected

Time & Date Inaccuracy: Reports when the time is incorrect or tampered with
A simple power reboot can resolve up to 99% of these issues. That's why WCCTV supplies all our surveillance cameras with the WCCTV Smart Switch, an automated power switch that allows for a remote reboot.
So there's no need for site visits to reboot your equipment; we'll handle everything remotely for you - most of the time before you even know there's a problem.
Why Use WCCTV?
WCCTV is the USA's most established supplier of mobile surveillance cameras, with more active systems globally than any other supplier.
Our experience, world-class customer support, and leading-edge surveillance technology make us the ideal partner for anyone looking to install temporary surveillance cameras.
We manufacture our equipment and do not rehire, resell or rebadge third-party equipment, allowing us to provide direct support and competitive pricing.
Our service is the most comprehensive available in the marketplace and ensures your sites remain safe.
Ready to learn more about how WCCTV's rapid deployment cameras can assist with your applications? Contact our team today on 877 805-9475 or email sales@wcctv.com.