Construction job sites are popular targets for criminals, so security systems are a must have for all projects.
When choosing which security solution to utilize, typically surveillance cameras work out to be the most effective in terms of results, deterrent factor, and cost effectiveness.
Typically, a surveillance camera can reduce costs by up to up to 85% (add link back) when compared to security guards.
But how do you choose the best surveillance camera supplier? We suggest by starting with the following questions:
What surveillance systems are available?

What type of surveillance system is suitable for my job site?

Who is the best security provider?
In terms of answering the first question, WCCTV recently outlined the key features a mobile surveillance camera should have in order to protect your job site effectively.
These features are not just 'nice-to-have' features, they are essential components that ensure your sites remain crime-free.
With regards to which camera will work best for your site, we created a comprehensive guide that may assist in your decision making process: Choosing the Right Mobile Surveillance Unit.
Partnering with the right supplier is the final piece of the puzzle regarding protecting your job sites.
At WCCTV, we have over 20 years of experience protecting sites for a blue-chip client base across Texas and the wider-US. Our general contractor clients include Kiewit, Whiting-Turner, JE Dunn, Swinerton, and many others.
Our experts understand that the security of your job site should be a key priority. We believe a managed surveillance system is the most effective way to prevent site crime.
This guide will help you understand why a comprehensive audit is required and what to look for when choosing a supplier.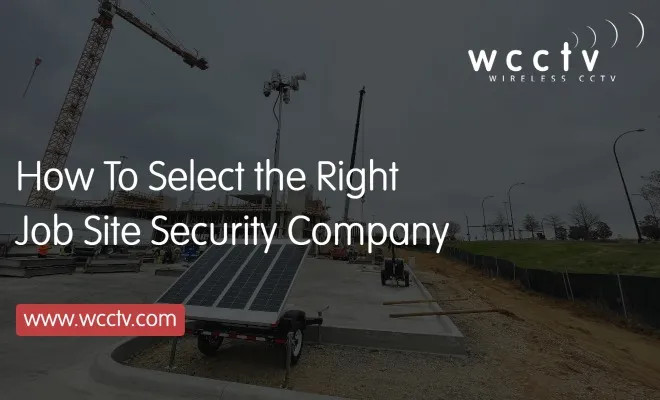 Summary of the Guide
Before you choose a construction job site surveillance systems supplier, it's essential that you do your research.
 Create a list of suppliers and take the time to discover which supplier offers the best value for money without compromising on high-quality service.
We have compiled this guide based on universal principles that work for all general contractors, but we apricate not all sites are alike, so consider what works best for your specific needs.
Use our guide as a 'rule-of-thumb' and adapt it to suit your site.
Click below to get your free copy of the guide.
WCCTV - Managed Security Cameras for Construction Job Sites
WCCTV is the USA's leading supplier of mobile surveillance cameras for construction job sites.
We provide market-leading security cameras backed by a fully managed service that includes equipment installation, video monitoring, maintenance, and ongoing technical support.
Our rapid-deployment cameras provide construction sites multi-application benefits, including security, time lapse video filming, and remote project management.
Our customizable solutions can accommodate any site size and easily function whether you have power or are dependent on solar energy. Our units contain 4G LTE transmission technology – allowing these solutions to operate autonomously.
No matter the site, we have a solution that we can create for you.
Ready to find out how WCCTV's Mobile Surveillance Cameras can assist with site security? Get in touch today at 877 805-9475 or email sales@wcctv.com