Construction job sites face a range of security threats including theft, trespass, vandalism and arson. WCCTV's free Ultimate Construction Job Site Security Checklist helps close the gaps in your security processes.
Construction job sites are at high risk of security threats, including burglary, trespassing, vandalism, and arson.
Construction sites contain many highly sought-after materials and tools, which are easy to resell, making them a prime target for organized and opportunist theft. 
Video Surveillance Cameras are an effective way of mitigating these threats, but there are several ways to tighten your security.
Below, WCCTV presents its Ultimate Construction Job Site Security Checklist a free download that helps close the gaps in your security processes.
Improving Construction Job Site Security
It has never been more vital for construction companies to invest in job site security measures to protect their valuable assets and improve worker safety.
Enhancing your security measures will help:
Prevent the theft of tools and equipment

Protect against project delays

Mitigate vandalism and arson

Shield your site from trespassing

Reduce accidents and injuries 
Identifying Your Security Threats
Although everyone who works across your sites is responsible for keeping them secure, it's best to appoint a security lead from within your teams who can oversee all critical elements. 
The person can ensure any existing or emerging security issues are dealt with in real time, reported, and recorded for reference.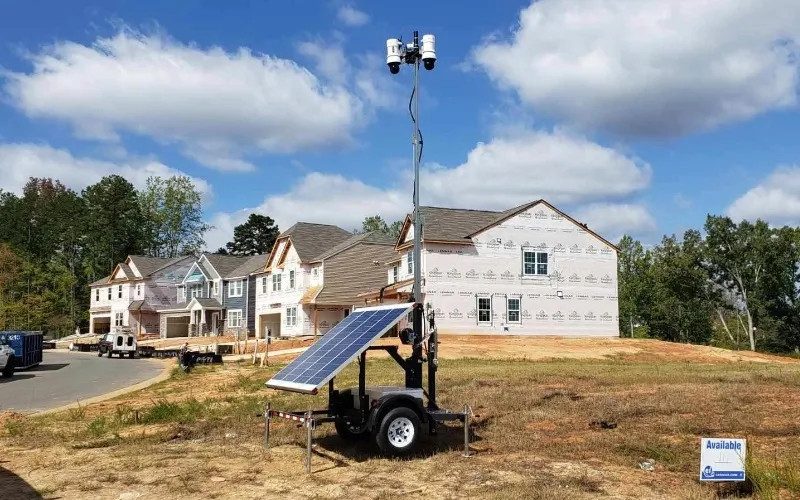 The best way to identify the threats your job site will likely encounter is to perform a security risk assessment.
If you've never completed a security risk assessment before, WCCTV has created a free guide you can download here: A Comprehensive Guide to Construction Site Security.
The Ultimate Construction Site Security Checklist
To assist construction project managers working on job sites of any size or scale, WCCTV has complied the Ultimate Construction Job Site Security Checklist. 
It is embedded below and available to download as a PDF to print and/or share with your team.
WCCTV - Managed Surveillance Cameras for Construction Job Sites
WCCTV is the USA's leading expert in managed surveillance cameras for construction job site security.
We supply the highest quality security cameras backed by a service that ensures your sites are protected 24/7, with minimal impact on your time or resources.
Our rapid-deployment cameras can be utilized for multiple applications, including security, time lapse video capture, and remote project management.
We can provide cameras that function whether you have power or are dependent on solar energy, and all of our units contain 4G LTE transmission technology allowing them to operate entirely autonomously.
No matter your site, we have a security solution for you.
Ready to find out how WCCTV's Mobile Surveillance Cameras can assist with site security? Fill out a quick contact form or speak to our team at 877 805-9475 or email sales@wcctv.com.
Related news