The security experts at WCCTV look at the rising costs of materials and how this has increased theft for scrap yard companies throughout the USA.
In response to the escalating threat of metal theft due to rising raw material prices, scrap yard owners are urged to implement proactive security measures, such as security camera systems, to ensure continuous surveillance and deter potential theft.
Mobile Video Surveillance Cameras act as a visual deterrent and allow for the investigation of criminal activities.
WCCTV's proactive surveillance solutions are cost-effective, convenient, and help protect precious cargo on scrap yards. Below, the security experts at WCCTV look at the rising costs of materials and how this has increased theft for scrap yard companies throughout the USA.
Rising Prices of Raw Materials Leaves Scrap Yards an Attractive Target
The manufacturing industry has been struggling to keep up with the demand for raw materials due to metal shortage; thee raw material prices are increasing, therefore leaving scrap yards vulnerable to theft.  
The consequences of metal theft extend far beyond financial losses. Scrap yard owners are burdened with the cost of stolen materials, property damage resulting from break-ins, and the need to replace stolen equipment. Moreover, the downtime and disruption caused by theft can disrupt normal operations, impacting profitability and customer trust.
As a result, owners of scrap yards can no longer rely simply on reactive tactics. Taking a proactive approach to protect businesses, employees, and assets is critical.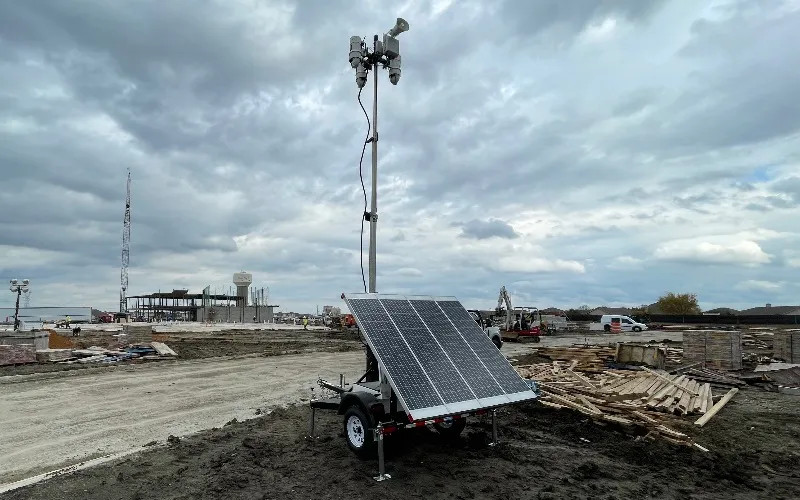 Why WCCTV Mobile Surveillance Solutions Outperform Other Measures in Preventing Metal Theft
In the ongoing battle against metal theft, scrap yard owners have implemented various security measures to safeguard their businesses. While some of these methods offer a level of protection, they often fall short compared to the effectiveness of security camera systems.
For instance, determined thieves equipped with protective gloves or metal cutters can easily overcome physical barriers like electric fencing. On the other hand, guard dogs or human security personnel demand constant care and attention, posing risks to personnel and animals and increasing operational costs.
WCCTV specializes in expert security solutions, so you don't have to worry. By implementing enhanced security measures, you can significantly reduce the likelihood of becoming a target for metal theft.
Mobile video surveillance provides a more accurate and detailed overview of incidents on-site than a security guard's presence could.
A surveillance camera can also view a much wider area than a security guard. Multiple passive infrared (PIR) detectors can proactively identify any intrusion across a whole site and all points of ingress.
Surveillance cameras are always awake, ready to stop and catch thieves, vandals, and other would-be criminals 24/7. They don't suffer lapses in concentration or attention fatigue. Surveillance cameras remove the element of placing trust in security personnel's alertness, motivation and ability.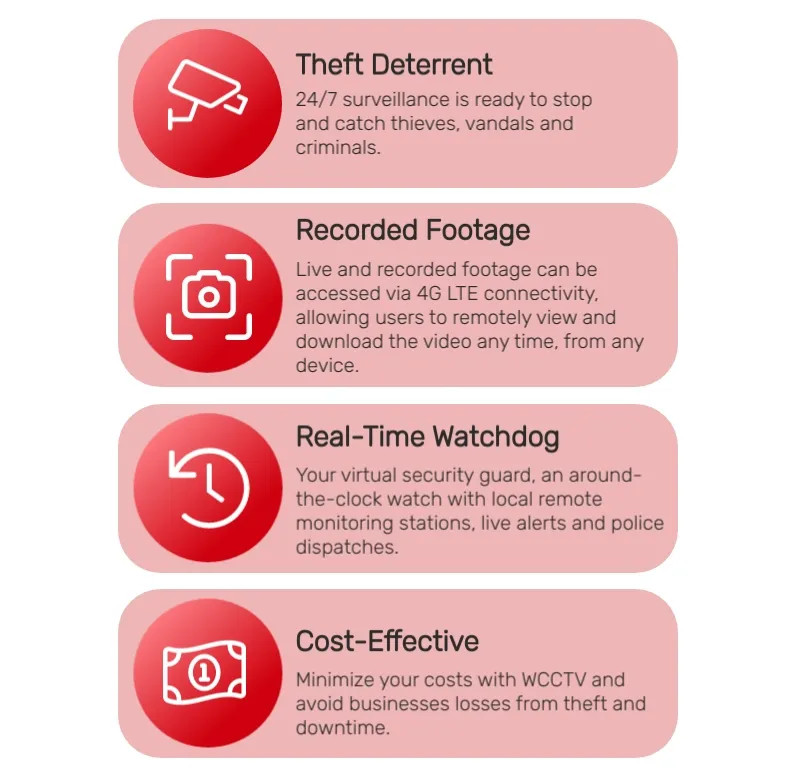 A recent article discussed how implementing a mobile video surveillance camera program to supplement or replace wired security cameras can deliver significant benefits.
These benefits include a considerable reduction in installation costs, faster installation times, and a more flexible and responsive approach to your crime prevention and investigation effort.
Click below to learn more.
WCCTV Security Cameras: Advanced Solutions for Theft Prevention in Scrap Yards
WCCTV is the USA's leading supplier of mobile surveillance cameras for metal protection at scrap yards.
We provide market-leading security cameras backed by a fully managed service that includes equipment installation, video monitoring, maintenance, and ongoing technical support.
Our cameras provide powerful video analytics to enhance area protection, such as where you keep scrap metal or other valuable materials.  
All of our surveillance solutions detect, mitigate, and dispatch. When an intruder becomes apparent in the area or breaches the perimeter, the alarm monitoring center is alerted and a real-time crime prevention response, including audio warning, flashing lights, alarms and law enforcement dispatched.
Regardless of your current power status, WCCTV security cameras can be deployed to any site, as our solutions are adaptable and can be tailored to any environment. Whether you have electricity-powered mounting poles or require a more transportable solar option, our units are fully autonomous because they use 4G LTE transmission.
Trust the experts at WCCTV for 24/7 security and peace of mind.
To learn more about protecting your sites, contact us today at 0800 470 4630 or email sales@wcctv.com.