WCCTV's mobile video surveillance enhances the safety and security of visitors, students, and staff at Friday Night Light and mitigates safety concerns.
Despite the electrifying atmosphere and sense of community at student campuses during Friday Night Lights events, it's essential to acknowledge that such events bring increased issues around safety and security.
Recent findings published in June 2022 from the School Survey on Crime and Safety revealed over 27,000 reported crimes, resulting in an alarming rate of nearly 19 crimes per 10,000 full-time students.
These statistics underscore the urgent need to address safety measures and take steps to address any weak spots in your campus security.
Sporting events draw large crowds, which can naturally attract criminal activity. Campus security and ISD police departments often need to have eyes in several places simultaneously.
WCCTV examines the unique challenges campuses face in keeping crowds secure during Friday Night Lights events; the technologies utilized to mitigate risks, and how to avoid campus safety issues.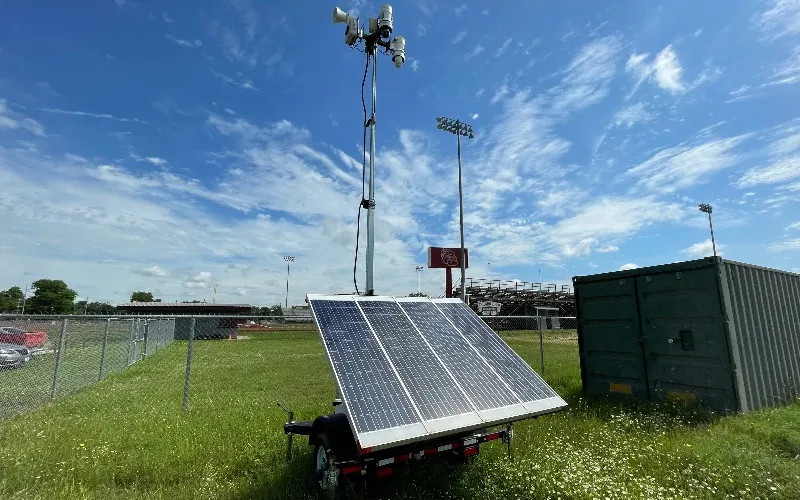 Safety Concerns For Students, Spectators, And Athletes At Friday Night Lights
The key security concerns surrounding sporting events on campus include:
Crowd Management: Due to the larger crowds attending the campus, ensuring clear entry and exit points, an appropriate queuing system, and preventing overcrowding to avoid potential stampedes or accidents.

Traffic Control: Ensure you have provided adequate parking facilities, direct traffic flow, and minimize the risk of accidents

Spectator Conduct: Encouraging positive spectator behavior is essential to maintaining a safe environment. Promoting sportsmanship, discouraging unruly behavior or harassment, and enforcing strict codes of conduct can help prevent conflicts or disturbances.

Security Measures: Implementing comprehensive security measures is vital to address potential threats or disruptions. This includes deploying trained security personnel, utilizing surveillance systems, and conducting bag checks or screenings to detect prohibited items.
By addressing these safety concerns and implementing appropriate measures, campuses can create an environment where students, spectators, and athletes can confidently enjoy Friday Night Lights events, knowing that their well-being is being prioritized.
Maximize Student Safety with WCCTV's Mobile Video Surveillance
Collaboration between campuses, local law enforcement, and community organizations has proven vital in maintaining crowd security during these events.
To enhance these collaborations, WCCTV supplies its mobile video surveillance platform on a sale and rental basis to campuses across the US.
Our rapid deployment pole cameras and mobile surveillance trailers can be deployed quickly and operate whether you have power or internet availability.
They operate as a force multiplier, improving situational awareness and gather vital evidence across large areas.
They can also integrate with a campus's security control room to view all from one central monitoring area.
Deploying a WCCTV Surveillance System offers a high-definition camera that can be redeployable at unsafe, remote, or in 'blind spot' locations that can be monitored, ensuring a safe and enjoyable place for all.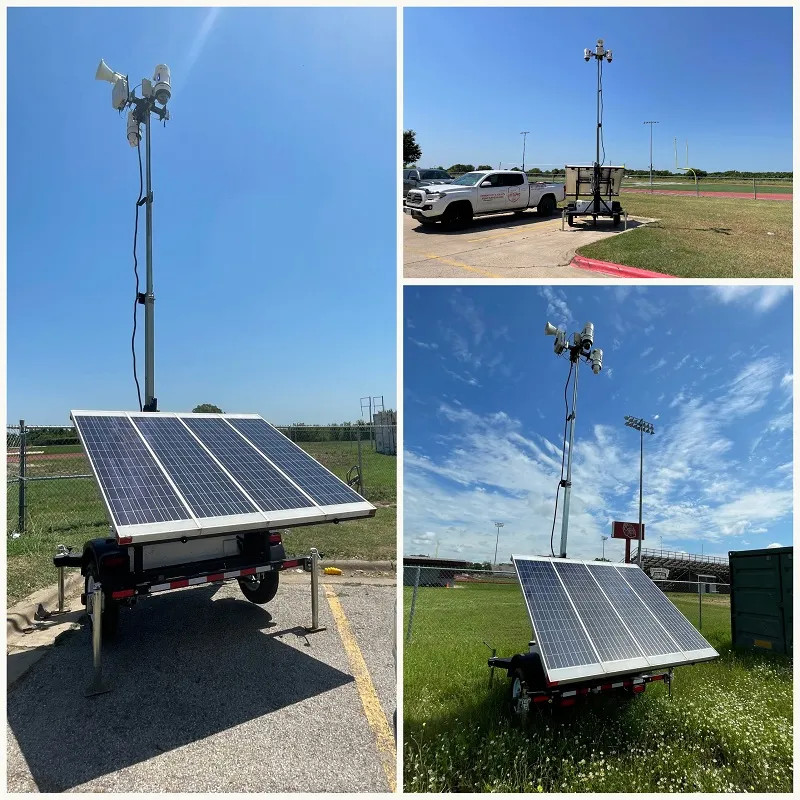 Video Analytics
Using AI-enhanced video analytics, WCCTV's mobile video surveillance systems can automatically detect unusual activities or behaviors.
This proactive monitoring can help identify potential threats or risks before they escalate, allowing security personnel to intervene promptly and prevent incidents from occurring.
For example, it has picked up loitering in a restricted area for some time, or a restricted vehicle enters the campus from a certain point.
Video analytics can automatically assess these situations and alert the security team via email or on-screen notifications when required.
Why Use WCCTV Rapid Deployment Cameras to Boost Campus Security
Addressing the above safety concerns and implementing WCCTV's mobile video surveillance measures for campuses can mitigate risks and enhance safety during these events.
By harnessing WCCTV's unique capabilities, such as video analytics and remote monitoring, security personnel can effectively manage crowds, deter potential wrongdoers, and facilitate collaborative efforts with local law enforcement.
WCCTV is the USA's most established supplier of rapid deployment cameras, with more active systems globally than any other supplier.
Our experience, world-class customer support, and leading-edge surveillance technology make us the ideal partner for installing temporary surveillance cameras.
We manufacture our equipment and do not rehire, resell or rebadge third-party equipment, allowing us to provide direct support and competitive pricing.
Our service is the most comprehensive available marketplace and ensures your campus remains safe during these highly attended events this sports season.
Ready to learn more about how WCCTV's rapid deployment cameras can boost your campus security? Contact our team today on 877 805-9475 or email sales@wcctv.com.