Our security experts explain the difference between security guards and surveillance systems, allowing you to save on your security costs.
As a construction manager, protecting valuable assets such as building materials, tools, and heavy machinery from theft or vandalism is essential to keeping your budget and project on track.
WCCTV mobile video surveillance cameras backed by remote alarm monitoring could save up to 85%* on your security costs compared to a security guard.
Below, our security experts explain the difference between security guards and surveillance systems.
Security Guards
The presence of a security guard will likely deter some criminal activity, but not all. Security guards can patrol your job site in real time and report any vulnerabilities or trespasses only in the area, but they can only protect the area in their immediate vicinity. This leaves other areas Completely unprotected and vulnerable.
Security guards must be at the right place and time to detect intruders. They need to be constantly alert, and, unfortunately, there are many reports of guards falling asleep on the job, suffering lapses in concentration, or otherwise failing in their responsibilities.
Large properties and construction job sites can take a significant time to patrol, and if they follow a regular patrol path, this leaves areas open to vulnerabilities if savvy criminals learn how to avoid being spotted and know that a security guard cannot be everywhere at once.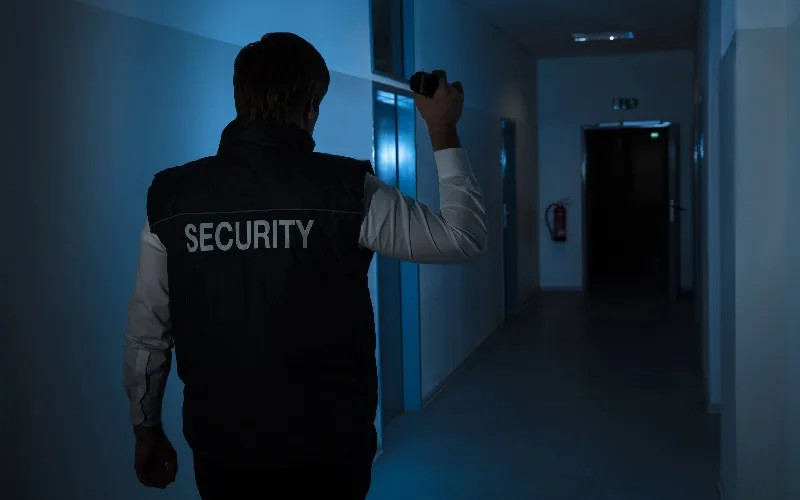 Mobile Video Surveillance
Installing mobile video surveillance on your construction job site can considerably deter unwanted intrusions, theft, and vandalism.
Live remote monitoring means you can identify real-time threats and respond quickly and appropriately. By coupling mobile video surveillance with a video monitoring center, live audio challenges and siren alarms can be initiated to prevent crimes.
This solution also allows for the dispatching of local law enforcement to respond to intrusions on your site.
Finally, the cameras provide time-and-date stamped evidential footage with a detailed report.
WCCTV's state-of-the-art security cameras are backed by a managed service that includes installation, alarm monitoring, maintenance, and ongoing technical support.
The cameras feature in-built video analytics to detect any intrusions onto your sites. We can customize the cameras with audio voice-down functionality, blue lights, and sirens to let an intruder know they're being watched!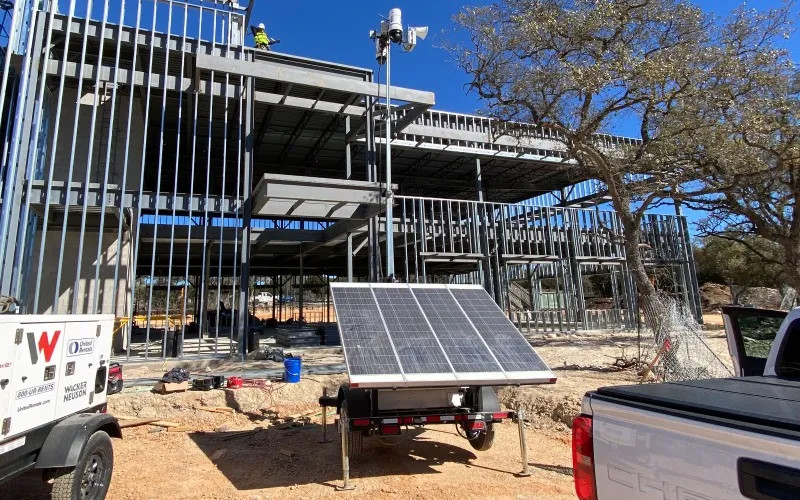 Real-time video surveillance cameras can give you peace of mind about the safety of your construction job site. They can deter break-ins in progress and do so without putting a guard's life in danger.
Recently we published an article on Reducing Your Security Costs by 85% with WCCTV.
In summary, our security technology can replace or work in tandem with security guards, helping to reduce total security spending without compromising quality, results, or reliability.
Unlike security guards, WCCTV's mobile surveillance cameras:
Never get tired, and never take a break
Can see in complete darkness up to 650ft
Capture video evidence for law enforcement investigation
Provide additional benefits like project management and time-lapse video recording
Can proactively stop a criminal in real-time with no risk of harm
Improve your environmental impact
WCCTV - Managed Surveillance Cameras for Construction Job Sites
WCCTV is the USA's leading supplier of mobile surveillance cameras. For over 20 years, we have led the way in technological capability and the number of security units deployed globally.
Typical use cases for our proactive, cost-effective, managed surveillance cameras include:
Construction Site Security
Oil, Gas, and Energy Facility Security
Parking Lot Security
Major Events Security
Ready to learn more? Contact us today on 877 805-9475 or complete a quick contact form.
Related news