Before investing in a mobile surveillance trailer, the security technology experts at WCCTV have outlined a few key features you should demand from your system.
Protecting your construction job site from security and safety challenges, including theft of equipment and materials, is an ongoing challenge.
Selecting the right mix of technology and security processes is vital. From a technology perspective, a mobile surveillance trailer is one of the most effective ways of preventing job site theft.
Specifically designed to provide all-in-one surveillance for construction job sites, a surveillance trailer can be deployed in minutes and operate regardless of onsite power and internet availability.
They can also quickly move around your site to cover any new areas of vulnerability as the site develops.
Perhaps most importantly, they can be hired short- to medium-term, so you only pay for the surveillance you need. 
However, before investing in a mobile surveillance trailer, the security technology experts at WCCTV have outlined a few key features you should demand from your system.
Access To Live or Recorded Footage
You should be able to access your surveillance trailer 24/7/365 from any location via a mobile app, desktop software, or both.  
Easy access to live or recorded footage is essential; this will allow you to always have a complete overview of your sites regardless of where you are - removing the requirement to be tied to a desk when reviewing videos.
WCCTV provides its mobile viewing software to all clients free of charge. This includes smartphone and tablet apps and a range of solutions for laptops and PCs.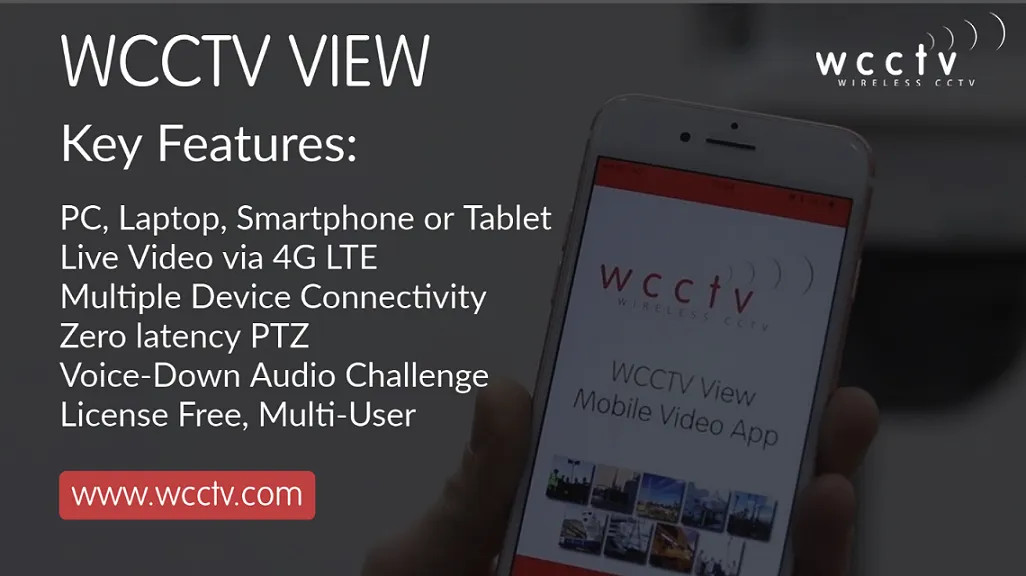 Voice Down Systems
For maximum security protection, a surveillance trailer should have built-in voice-down features.
Voice-down systems allow a live audio challenge to be issued to suspicious individuals on your sites. Nine in ten times, this prevents a crime from occurring.
Unlike many other comparable systems, WCCTV's mobile surveillance units allow for a live audio challenge to be issued.
A live audio warning offers the potential for maximum impact. For example, if an intruder is detected on your job site, you can quickly warn them off and inform them that law enforcement has been dispatched.
The video below shows exactly how effective this system is.
High Visibility to Act as a Deterrent
Your surveillance units must stand out so potential intruders immediately get the message that your site is secured.
WCCTV surveillance trailers are 20ft tall, meaning they are highly visible and can capture footage from every angle of your job site, providing 360° coverage and a detection area spanning your entire operation, and are entirely autonomous.
To enhance their visual presence, WCCTV equips trailers with multiple flashing blue lights and sirens.
Power Autonomy
Many construction sites will lack permanent power availability, making it challenging to install 'off-the-shelf' security cameras.
An ideal solution for these sites is a mobile surveillance unit that utilizes solar power for complete autonomy.
To meet these unique demands, WCCTV surveillance trailers are fully equipped with solar power, allowing year-round security on sites with zero power.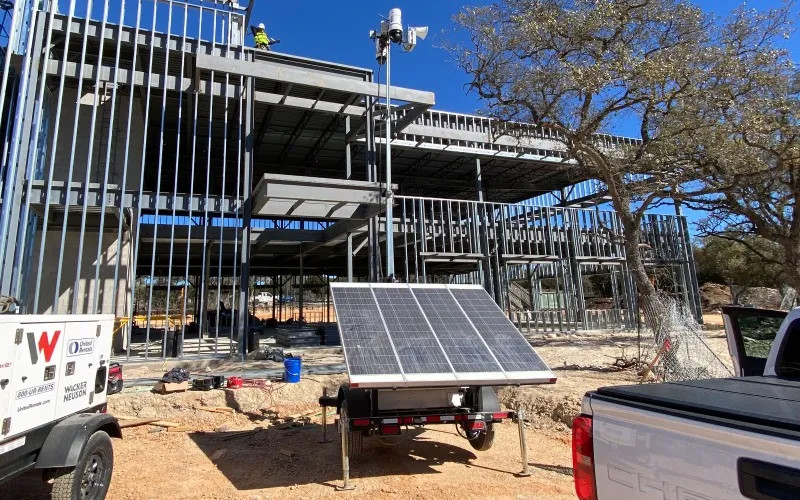 Cheaper Alternative to Security Guards
WCCTV mobile video surveillance cameras backed by remote alarm monitoring could save up to 85%* on your security costs compared to a security guard.
As well as being a cheaper alternative to a security guard mobile surveillance unit, it can give you peace of mind about the safety of your construction job site. They can deter break-ins in progress without putting a guard's life in danger.
WCCTV – Rapid Deployment Mobile Surveillance Unit For Construction Job Sites
Your job site needs the most advanced temporary site surveillance service available.  WCCTV can offer a truly flexible solution, designed and installed in a semi-permanent format so you can ensure your job site is secure when needed.
WCCTV is the USA's leading expert in managed surveillance cameras for construction job site security.
We firmly believe that video surveillance cameras are the most effective way of boosting security at your job sites, especially when paired with our remote video monitoring services.
You can utilize our rapid-deployment cameras for multiple applications, including security, time lapse video capture, and remote project management.
Our cameras can function whether you have power or are dependent on solar energy. Our units contain 4G LTE transmission technology allowing them to operate entirely autonomously.
Ready to find out how WCCTV's Mobile Surveillance Cameras can assist with site security? Fill out a quick contact form, speak to our team at 877 805-9475, or email sales@wcctv.com.