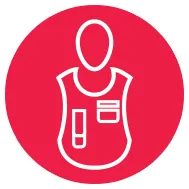 WCCTV operates a global reseller programme for its UK manufactured body worn cameras, and the Company is always happy to hear from potential resellers in appropriate sectors.
Ideally we are looking to partner with established security services or equipment providers who can facilitate direct sales and provide ongoing technical support in-territory.
If you want to be a part of the continued WCCTV success story, please contact a representative on +44 (0) 800 470 4630 or email sales@wcctv.com.
WCCTV Value Added Reseller Programme
WCCTV provides its partners with access to unique body worn cameras, comprehensive training and technical support to enable them to maximise sales in their territory.
There are multiple benefits to partnering with WCCTV. These include gaining access to unique UK manufactured products, comprehensive sales training and ongoing technical support to enable you to maximise sales within your territory, region or market sector.
WCCTV provides its partners with leads generated from its popular websites as well as leads generated from its ongoing global exhibition programme.
Other key benefits of becoming a WCCTV partner include:
Access to reseller pricing model
Full hardware and software training
Access to WCCTV web portal
Access to full marketing materials and ongoing marketing support
Access to sales literature
Full sales training
Access to a dedicated account manager for ongoing support
WCCTV can attend your exhibitions to assist and support
If you are ready to become a WCCTV partner please complete the application form below:
WCCTV Partners
Body Armour
PPSS Group is a UK headquartered (and also U.S. registered) firm specialising in the design, development and manufacturing of high performance body armour and protective clothing - offering protection from firearms, edged weapons, hypodermic needles as well as blunt force trauma and human bites.

 

+44 (0) 845 5193 953 | www.ppss-group.com