Southern Route Stations

- There are over 544 stations in the Southern region, they are the main gateways for 700 million passenger journeys each year. Some of the more notable stations in the region are London Waterloo, Britain's busiest station, London Victoria, ranked number two and London Bridge ranked number four.
The Challenge
Network Rail's public facing staff at stations, are regularly exposed to challenging situations, including managing difficult members of the public, dealing with general anti social behaviour and handling intoxicated persons. Without the use of body cameras, the Station Staff responded to several situations which escalated into abusive confrontations, leading to racial, verbal and at times physical abuse. 
The staff had no way of capturing these incidents to fully determine what had actually taken place and when reporting the event, it often came down to one person's word against another. These challenges greatly reduce the chance of gathering substantial evidence when incidents occur, which brings further challenges to the staff if they were to find themselves in the unfortunate situation of court proceedings.
To help resolve the challenges and improve worker safety Network Rail have decided to equip their public-facing teams with body worn cameras due to their ability to reduce incidents of confrontations and conflicts.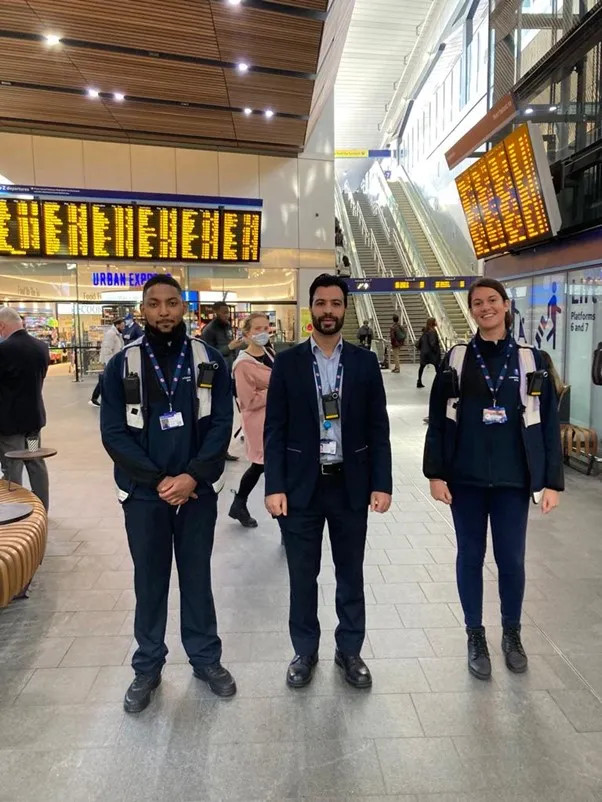 The Solution
WCCTV was chosen by Network Rail as the preferred supplier of body worn cameras after the successful implementation of the cameras at other stations across the network. 
WCCTV's body worn cameras feature a unique front-facing screen, which shows the subject they are being recorded. This makes staff feel instantly safer whilst on duty, as the screen is proven to invoke a behavioural change in the subject during incidents.  
This reduces not only physical abuse on staff but also racial and verbal abuse as they carry out their contracted duties, which reduces staff stress and sickness due to incidents. 
WCCTV's body worn cameras act as a visual deterrent and can prevent incidents before they occur. Whilst being a visual deterrent, they also act as a useful evidence-gathering tool should the need arise to supply the authorities with evidence of the incident. This enables staff to feel confident of a fair outcome should they need to attend court, as they know Network Rail has introduced equipment that will directly assist in their case.
Alongside the cameras, WCCTV provided the station staff with Evidence Management Software, allowing authorised personnel to quickly review and share the videos captured on the cameras when required. 
The Result
After implementation, staff were actively encouraged to provide feedback on using WCCTV's body worn cameras. Staff that have used the cameras have said that they feel safer knowing that they have a deterrent and evidence-gathering equipment to help assist with their duties when on shift. 
The evidential proof via the high-quality footage has been key in giving a true account of incidents and this has protected Network Rail's staff from that point of view, but additionally, the Body Cameras, with Front Facing screen, have consistently served as a huge deterrent to would-be antagonists and just by the Station Staff adopting the cameras and wearing them, Network Rail has seen a reduction in the number of incidents.
The WCCTV Body Worn Cameras have delivered improved levels of personal safety for station staff and continue to provide a visual deterrent helping reduce both verbal and physical abuse towards station staff.
Ready to see if body cameras can support your business?